A few weeks ago, Rift Valley Railways (RVR) and Citadel Capital had a small media briefing to highlight the state of their investment in a consortium to run the Kenya Uganda-Railway. It was meant to signal an escalation in the marketing the achievements of the consortium but it also highlighted the state of the railway that they invested in about three years ago.
The railways which moved 4.2 million tons in the early 1970s' when it last got a public investment but had been in steady decline since with increased competition from roads and pipelines. It was then passed on by the Governments of Kenya and Uganda through a concession to new owners who, as it became apparent later, were without money or management expertise – and were down to one working train, and about to pull the plug on the venture.
The new investors, led by Citadel and Transcentury, fundraised through debt and equity and set about rebuilding hundreds of kilometres of rail tracks that were dangerous if trains moved at their regular speeds, refurbishing locomotives and wagons, automating line movements, creating storage facilities, and putting staff succession plans in place. This year they launched a graduate trainee program that will have a class of 20 this year who were selected from 3,400 applicants and will soon install a train simulator for training.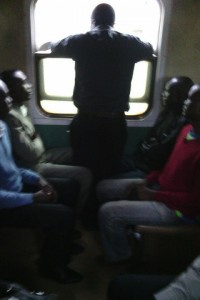 Passenger services are 4% of Revenue
Their concession called for an investment of $40 million in 5 years but it's taken a budget of $300 million to get where they are today, including $11 million worth of levies paid to the governments every year. They hired a management team from Brazil who engineered similar turnarounds, and there has been some progress in going from 22 days to move cargo from Mombasa to Kampala, to a current average of 8 days. The best performance is 4 days, and their internal goal is to make that period the average by 2015. They are back to moving 1.5 million tons a year, meeting a consortium target with s plan to get to 4.5 million tons by 2016.
But even as they are breaking even, the governments' of Kenya and Uganda are restless. In recent weeks, the Deputy President complained about the creaking 90-year-old relic known as the Lunatic Express that was built by the British Colonial government, while the Transport Cabinet Secretary believes that with 20 million tons passing through the Mombasa Port, there's need for five other railways.
There are designs to have a Chinese-built wide-gauge railway from Mombasa to Uganda (to be financed with a 1.5% tax on all imported goods) and another 1,500-kilometre track from a planned new Lamu port all the way to South Sudan.
Even with clients like Total, Hass, Maersk, Coca Cola, Shell, the World Food Program Bamburi, Athi River, and EA Portland cement companies, RVR still have a way to go with proving to other corporates that they are a viable reliable option to the hundreds of trucks that make that daily journey from to and from the Mombasa Port.