This morning saw what was likely the very last shareholders meeting of Access Kenya, as a public company. The Company Secretary reported receiving 11,207 proxies representing 85% of the shareholders at the extraordinary general meeting (EGM) that was to vote on the de-listing of all the issued 218 million ordinary shares of the company form the Nairobi Securities Exchange following a buyout offer that the board of directors had already endorsed and which 75% of the shareholders had voted in favour of.

A few of the retail shareholders present asked lots of questions about the deal, and it seemed they were unhappy that just over five years after they bought shares in the company at an IPO, after which the share had risen to 38 shillings, before dropping to Kshs. 4, and getting low inconsistent dividends, in between, they were now being evicted from the company.  
Some questions/topics raised: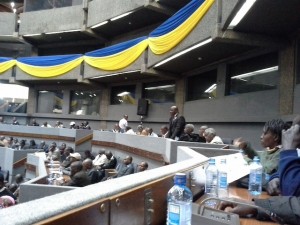 – Why sell out for Kshs 3 billion (~$35 million) that could easily have been raised locally? The Directors 
– Was there a capital markets (CMA) rule on the minimum number of years that a company had to remain listed after an IPO? The directors said there was none, and the regulators had approved all decisions taken by the directors in the deal 
– Some shareholders said they had bought shares at about Kshs. 18, and were taking a big loss. Directors replied that Kestrel Capital, as an independent advisor, said Kshs. 14 was a good price to take and that Kshs 14 was a big improvement  from the Kshs 4 low in the past year, and Kshs. 9 when the deal was announced and shares frozen. 
– Were the needs of minority shareholders considered in the negotiations, and why didn't the majority shareholders simply reduce their stakes, instead of selling the company outright?
– Why was the offer to retail shareholders structured as an 'unconditional', mandatory one? The directors said that no one was being forced out of the company and that any shareholders who wanted to remain could do so, and they will still receive annual audited accounts from Access Kenya..they noted that there were still some shareholders of Unilever Kenya which delisted  in 2009
– What is the fate of employees who own shares in the ESO..and will they be arm-twisted to vote the shareholders' acceptances past the 90% threshold? The directors said Dimension Data was a $6 billion company who's parent was a $100 billion one with ambitious plans for Access Kenya and Eastern Africa.

The final results of the shareholders voted will be tabulated by Deloitte and released in two days – and payments should be made to shareholders in September 2013.