Access Kenya directors have approved the sale of the company to Dimension Data and will now recommend that all other shareholders vote in favour of the deal at a shareholders EGM on August 20, 2013. The company will forward this circular to all the company's 28,000 shareholders and need to get a 75% vote approving the deal which will pay Kshs. 14 (~$0.16) per share and also de-list the company from the Nairobi Securities Exchange just six years after an IPO and listing.
Elsewhere, the government has agreed to 
waive
 the requirement that local Kenyans have to own 20% of the company after the Dimension Data takeover.
Other Deals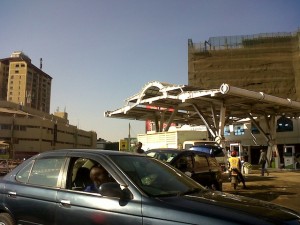 Big Milk:
 According to the Standard, dairy giant
Brookside
has
acquired
 a majority stake in rival Molo Milk – continuing a pattern of the company buying out its rival's and
consolidation
 in the milk processing sector.
Unfriendly Oil
:
Kenol Kobil
is fighting off the
takeover
 of a prime petrol station at Yaya area, Nairobi by a rival company – Hashi Energy.
KenolKobil (management) claim an armed gang of 20 people raided the petrol station, kicked out its staff, and rebranded the outlet with the Hashi Energy logo.
Recent M&A deals approved by the Kenya Competition Authority include:
Automobiles
– The acquisition of 
DT Dobie Kenya
 (distributors of Jeep, Mercedes-Benz, Nissan, Renault, Chrysler) by Toyota Tsusho Corporation – with a provision that implies that there will be some separation of brands above and below 1,800 cc.
– The acquisition of Cica Motors Kenya (
distributors
  of Hyundai Trucks and Greatwall brands) by Toyota Tsusho Corporation
Banking, Insurance & Finance
The acquisition of Iroko Securities by Ecobank Development Corporation.
Health & Beauty
The acquisition of Laborex Kenya and Epdis Kenya by Toyota Tsusho Corporation.
Technology
– The 
acquisition
 of Comztek Holdings by Datatec in a South African deal valued at 88 million rand (Kshs 767 million)
– The purchase of all assets of Interest Africa by BSS Africa (Belgium Satellite Services)
KQ-KLM: The Competition Authority also exempted the joint venture agreement between Kenya Airways and KLM Royal Dutch Airline from the provisions of section 21 of the Competition Act which prohibits the abuse of a dominant position in the Kenyan market.