Chama to Conglomerate (Reinventing your Investment Group) is a book by Tony Wainaina, an investment banker, who was also the C.E.O of the Transcentury Group.
In it, he highlights key pointers and pitfalls that Chamas (informal investment groups) may encounter  in meeting their (initially) ambitious growth plans, such as dealing with members with different expectations & commitment to the group, the importance of hiring professionals, avoiding mediocre management, getting all members to bring the best investment ideas to the Chama, the problem of meeting in social places, the importance of strategic planning, time-keeping, & record-keeping – and some common sense lessons – such as if everyone is talking about a particular investment, it's already too late Safaricom IPO)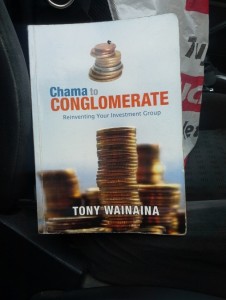 He also gives examples of other Chamas of people who turned informal meeting sessions into investment groups that invested, some with success and others with difficulties such as with members who have different expectations and level of commitment, land purchases, dealing with KRA (taxation).
There is also a brief mention of what is arguably Kenya's most famous Chama which began at a goat eating party in Athi River in 1997.which was not the most optimistic time for Kenya. It became the Transcentury Group which roped in 29 members who put up Kshs. 24 million that was invested into local NSE shares, Castle Brewery, East African Cables, Aureos, Rift Valley Railways, Helios, and which all led to their own eventual listing at the Nairobi Stock Exchange in 2011.
The book is a short, nice, easy read that you'll want to have with you, and refer to as your Chama grows or gets stuck like some of the examples highlighted. It also includes sample documents and guides like 'Letters of Intent,' 'Investment Term Sheets,' 'Non-Disclosure Agreements,' and steps to concluding a Kenyan land deal.
The book is sold at Text Book Centre, Bookpoint- Moi Avenue and is also available on Amazon for the e-reader investor types.