How do you introduce someone who's watched the new world of tablets, launched with the first iPad, go by very rapidly and evolve into many stronger models three years later – and who does not believe in them? Very gently…!
Despite the prevalence of iPads and other tablets at conferences, on the TV news, and even around Nairobi,  I still have not met anyone, other than @Wanyama, who uses a tablet productively as their main business device.
I recently got a generous offer to review the Samsung Galaxy Note 8.0 (Model GT-N5100) from Samsung Kenya after the recent 2013 Kenyan Blog Awards in which Samsung was a sponsor.
The first order of business was to get a SIM card, and that was at Safaricom who also cut the card down to micro-SIM size with a special stapler. It's also very easy to switch the Note from Safaricom, to a Wi-Fi when you find a signal, and save on some money. I also bought a Micro SD card, but when it came to getting a hard shell/case for the Note that took a bit longer. I went to several shops, who all had a variety of 7″ and 10″ cases, and this is a new size in the market at 8″ (the Note is aimed at Apple's new iPad mini), but eventually, I found one at Fone Express.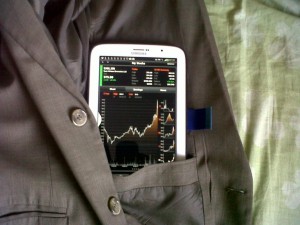 Need to invest in larger Suit Jacket pockets
Another challenge was portability of the Note. It does not seem to fit in many jacket pockets, but larger pockets are something one should request from a tailor when ordering a suit in the future!
Tablet's are about apps, and there is a Google Play Store and a separate Samsung Store that I've not really tried. In the first month, from the Google one, I downloaded several apps I was familiar with such as:
– Evernote (great when you take notes on different devices like laptop's or mobile phone and sync) and Adobe Reader
– Waze, Ma3Route and Ushahidi for Nairobi traffic updates
– Skype for communications
– The New York Times, Bloomberg, the Financial Times and the Wall Street Journal for news
– DSTV to see programming highlights
– Tried out several simple farming applications to track farm inputs and sales.
Road Bump: Swype is a nifty program that makes typing faster in touch screen devices. It costs $0.99 and I was able to buy it from the Google store (which also prices paid apps in Kenya Shillings) after I added my credit card details. However, when I uploaded Swype, I found that I could not access the tablet as there was no keyboard to Swype/type in my access password on the top screen.
I spent a few days going back and forth with the Swype (online) and then Samsung (in Nairobi) teams without success and I had no choice but to go for the most radical option – which was to wipe out the tablet.  This seems to be a common issue in the tablet world in which people are constantly adding and deleting apps, some of which don't work properly, or compromise all devices.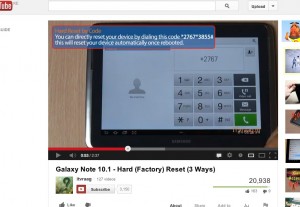 There were quite a few guides online and videos on YouTube showing the simple commands to reset it to factory mode – and fortunately, it worked! Within a few minutes, the tablet was back to life, and once I got online, the previously downloaded apps were ready to re-install including Swype, which I've re-added, without incurring an additional charge.
So far the Note is growing on me. It's nice and easy to use for taking notes at meetings, where I previously used to carry around a laptop. With a hard case, and larger jackets, let's see where how far this can go.