Last week, Base Resources and Base Titanium had a session in Nairobi to update the media on the progress of their Kwale Mineral Sands project. CEO Tim Carstens, the Managing Director (who has made 50 trips to Kenya in 2 years) spoke about the progress developments that started in October 2011 and are now 83% complete with the plant expected to go live in the third quarter of the 2013 processing the extraction of three products used in industrial pigments, plastics, paper, and paint colouring.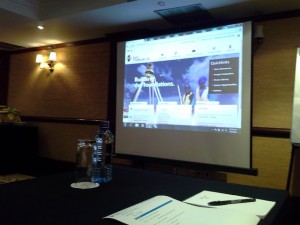 So far, along with the three fields identified in Kwale, Base has a new dam filled with 6M cubic feet of water, a new 8KM road (from a nearby highway) to the plant – which is itself being assembled like a large pre-fab lego structure, a new dock being constructed at Kilindini (on the mainland side), and a (1,000 ton/hour) ship loader that is being assembled in Durban. In addition they have worked with KPLC to get stable electrical via a new substation, obtaining equipment for the site like the worlds' two largest bulldozers in – all while  maintaining an exceptionally safe work environment for the current 2,000 workers in a community that has not had past experience in mining.
Despite these investments which are expected to total $300 million for the project, the mine has a useful life of, and will be depleted, after just 13 years after which the company will hand the land back to the government, but now with plant, water dam, electricity, and road for it to to do other things. 
Base Titanium is a Kenyan company that is subject to Kenyan laws and will disclose every dollar they pay to the government as part of an international extractive industries initiative they have signed on for. Carstens believes that Base Titanium will demonstrate that large scale quality mining projects are possible in Kenya and that mining can replace coffee as the country's fourth-largest export with approximately $2 billion in export revenue.
While many 
local communities typically associate the discovery of oil and minerals with instant wealth, Base has had to manage and communicate the expectations of the community in terms of  extending benefits such as employment opportunities (which will number about 1,000 during production), purchasing foodstuffs from the local area, and most important in payments. The proposed Kenya mining Bill specifies the sharing  of mining revenue with 75% going to the National Government, 20% to the county government, and 5% directly to the community which should alleviate some problems seen in Nigeria and Tanzania where locals don't see benefits from the mines.
Carstens also said that Base Resources, which is listed in UK and Australia, is now 1% owned by Kenyan shareholders and they are continuing to talk to local fund managers on the potential for further investments in mining.