Someone said that a matatu owner is the seventh or eighth person to get paid at the end of a busy day, only getting residual cash after the driver, turn boy, tout, tax man, council person, policeman, and sometimes the driver's girlfriend have taken their cut. But on Tuesday, April 30, Google and Equity Bank unveiled BebaPay, a cashless way for commuters to pay for transport in buses in Kenya – and which propels owners right to the front of that queue.
The transport sector has many challenges and is known for some unpleasant habits like reckless driving, price hikes when it rains, bribing traffic police, ill-treatment of passengers, having unroadworthy vehicles etc. – but some investors who purchase the vehicles that can cost an average of Kshs. 4 million ($47,000) believe that a common thread behind these habits is the amount of liquid money that the sector generates and which is easily diverted to make many payments, even illegal ones.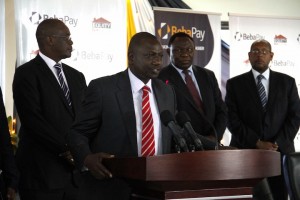 BebaPay enables commuters to pay their fares by using a card, which is then tapped to a phone in the bus enabling exact payments (even small ones like Kshs 20 [~$0.25] to be deducted from the user's card and uploaded into the owner's accounts that are at Equity Bank.
Currently, many owners only get to know how much money they have earned at the end of the day, but with BebaPay they are able to monitor their cash receipts online or via Equity banks' mobile phone platform – Eazzy247.
Another feature is that users who purchase & register cards will get SMS notifications each time the cards are used – and this can be useful for parents who send their kids to from school on public transport to track when and where their kids pay for transport using the card. Also, users can send money to people on buses to pay for transport, and the system will also link with M-pesa which is ubiquitous in Kenya.
Obtaining a free BebaPay card takes about 20 minutes at an Equity bank agent – this is to enable them to take down ID and Gmail details (even create a new one), and to create a BebaPay account in which a commuter inputs a password. This enables one to get an SMS notification each time the card is topped up and to monitor their card activity online.
Other Comments at the Launch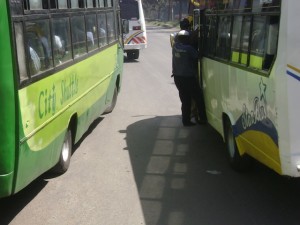 The Chairman of the Matatu Owner's Association said he expects some resistance to the changes. He also called on the government to institute training for people who work in the sector and for legislation to eliminate cash payments for transport.
One vehicle owner said that gangs run bus stages in downtown Nairobi and have to get paid daily before a bus is allowed to stop & pick passengers.
The Equity Bank CEO said the public transport sector is the bigger consumer of notes & coins and that handling all that cash comes with costs & risks that can be eliminated with BebaPay.
The Deputy President of Kenya said cash-less payments that go directly into business people's accounts will enable banks to lend based on cash flow, rather than collateral.
The two permanent secretaries (who currently double as acting ministers) both revealed their past unsuccessful attempts to invest in the matatu business.
The Nairobi Governor said that the government will train new traffic marshals to manage traffic at roundabouts which will create employment for the youth and free up policemen for other duties.
Every day, 1.5 million Google Android phones are activated and 1.5 million Kenyans use matatus.
Other Reading:
EDIT June 2020: The National Transport & Safety Authority announced its intention to re-introduce mandatory cashless payments for public service vehicles. The announcement happened during the Coronavirus pandemic, and the new digital platforms will also facilitate contact tracing through the maintenance of a digital passenger manifests. Service providers are to send in solutions  to NTSA by June 16.