As @Raaheli reminded us on election day today, Kenya has had five national election events in about 10 years – in 2002, 2005 (a constitutional referendum that failed), 2007, 2010 (a constitutional referendum that passed), and now in 2013.
As the results trickle in, here are some recent election predictions: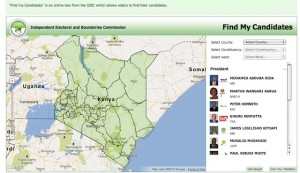 Africa Confidential
had a
post
about the Jubilee team, led by Deputy Prime Minister Uhuru Kenyatta, aiming to win the $1 billion election in the first round of voting. It noted that his popularity grew from recent presidential debates and postponement of his upcoming trial at the Hague.
Another report, titled Paths to Victory, from
Africa Practice
had three scenarios, with a 30% likelihood of a first round victory by either Uhuru, or Prime Minister Raila Odinga (triggered by strong turnout in either's base zones), a 10% likelihood of petitions leading to a long drawn-out court process to determine the election outcome, but that the odds favoured (60% likelihood ) a scenario in which Kenya would have a second round of elections, (anywhere between April and July 2013 – depending on the courts), as the mostly likely outcome.
Finally, there's another by
Kestrel Capital
which notes that a second round of elections, whenever they happen, will cost Kenyan taxpayers $128 million above the $286 million spent on the March 4 election.
In addition, the country's wage bill,
now at 30% of budget and 12% of GDP (of which the central government is responsible for 7.8% against an African average of 6.5%) is expected to worsen Kenya's current account deficit with the new devolved county and national governments (created by the 2010 referendum) – and that an increase in taxes (PAYE, VAT, import duty) is inevitable.
EDIT
Excerpts of a statement from the Head of Kenya's Public Service, Francis Kimemia, on the assumption of office by a new President

– The Judiciary which is a member of the Assumption to the Office of the President Committee is ready for any scenario that may arise at any time in the electioneering period as specified in Article 138 of the Constitution.
We have outlined various scenarios that may arise in respect to the assumption of office by the President-elect. In our view there are several key scenarios:
– Results are declared within 7 days after the presidential election
– Petitions are filed with 7 days after declaration of results
– If a petition is filed, the Supreme Court hears and gives a determination within 14 days A run-off is held within 30 days and is between number 1 and 2.
– If an election is cancelled a fresh election is held within 60 days In this scenario, swearing in will be held on 18th June, 2013.
– The President-elect is sworn in the first Tuesday following the 14th day if no petition has been filed or the 7th day following the date which the court renders a decision
Possible swearing in days.
– Tuesday, 26th March 2013. (First Round Win and no petition)
– Tuesday, 16th April 2013. (Petition is filed and Dismissed)
– Tuesday 30th April 2013. (Run-off)
– Tuesday, 18th, June 2013. (Petition filed and is successful)
Finally it is important to point out that the Constitution, in Article 142, provides that the incumbent President will continue to be in office until the next President is sworn in.