The Kenya Competition Authority recently approved for several corporate deals to be completed. Some of them were mere rubber stamping formalities, as the deals originated far away or had little in the way of local competition that would compel the authority to intervene. 
They covered a variety of sectors including: 
Agro-Processing
(The a

cquisition

 of) 

The flower growing business of Finlay's Horticulture Kenya by Lamorna

(The

acquisition

 of the) R

esidual business  of Agrifresh Kenya by Finlays

(The

acquisition

 of) 

 Sarkish Flora Ltd by Africa Blooms Limited.
Oil & Mining
– Acquisition of 100% of Cove Energy Plc by Shell Exploration & Production (Thailand) 
– Acquisition of  100% of Dominion Petroleum by Ophir Energy Plc.
– Pacific Wildcat Resources Corporation acquiring 100% of Stirling Capital  (UK) and Cortec Pty (UK)
– Elsewhere, there are new (and controversial) that have been proposed that mandate for local shareholders to own 25% of petroleum companies and 35% of mining companies (read 

more

)
Money & Finance
Acquisition of 100% of Aureos Capital by Abraaj Capital

Acquisition of Grant Thornton Kenya by PKF & Associates (which continues to be in an expansion mode even after taking over DCDM)

(The a

cquisition

 of) 

Additional shares in Pan Africa Insurance Holdings by Hubris Holdings

A

cquisition

 of Credit Reference Bureau (Holdings) Limited by Transunion Netherlands (part of the credit giant Transunion

62.52% of Micro Africa by Letshego Holdings (of Botswana)
Tourism
(100%) of  Ol-Seki Ltd by Hemingways Holdings
Manufacturing & Engineering
The a

cquisition of 

selected assets of Raffia Bags Kenya by Polycem Bags

 

The

acquisition of 

62% of Civicon Ltd by Transcentury Engineering & Contracting
Service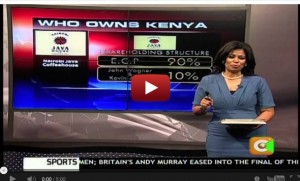 The 

acquisition of 

75% of Nairobi Java House by Emerging Capital Partners Africa Fund III. 

The deal won the AI  

deal of the year

  award and last weekend was featured on the Citizen TV piece called 

Who owns Kenya

  (video)
Others
Shoden Data Systems (Proprietary) by Hitachi Data Systems Europe (a sub-Saharan territory deal)

Kingfisher Properties by Mahesh Sanghrajka & Aasheet Sanghrajka.

Centro Suburb Ltd by  Westlands Triangle Properties
On-Going
Following on three earlier deals: 
Barclays & Absa are back in the news, six years later

The shareholders of three bottling companies in Kenya have agreed with a Coca Cola  plan to merge them under a single company Almasi, with one board of directors and CEO and cut other costly production redundancies

No word on Kenol. 
In the News
Other ongoing deals, yet to be concluded include: 
Money & Finance
Deloitte East Africa merging with Haile Solomon & Tekeste (Ethiopia)

The I&M Bank and City Trust deal

I&M Bank Limited buying 55% of Banque Commerciale du Rwanda

EcoBank Kenya pursuing an undisclosed local investment bank

UAP Holdings pursuing an undisclosed Tanzanian insurance company
Other
Australian firm Aviva Corporation (Australia) selling stakes of Kenyan subsidiary to Africa Barrick Gold (ABG)

Copy Cat buying 51% stake of Seal Africa

Low cost airline, FastJet which took over the routes of Fly540 in Kenya and Tanzania, also plans to 

take over

 the collapsed operations of South Africa's 1-time airline for $0.12
The Woolworth – Deacons 

deal