A Homes expo took place last weekend at KICC. Around that, other real estate matters include:
Mortgage rates down: The launch of the quarterly HassConsult property report showed that the average mortgage interest rate in Kenya is now 19%, down from 22.5% three months ago.
A Diaspora SACCO was launched with a view towards investing in real estate.
Aground breaking was held for the recently announced next phase of the Nairobi Business Park which will comprise 15,000 Sq.M of space for restaurants, a fitness centre and convenience stores. At the event, Mugo Kibati the Director General of Vision 2030 said that the property industry accounts for 5.3% of Kenya's GDP.
Exotic Marketing: Recognizing a challenge that homeowners face by moving further from the city, some developers now advertise themselves in terms of proximity to essential service centres. e.g. Olive Tree apartments [3Br for Kshs 7M] on Kiambu Road list about 5 schools, a mall, hospital and bus stop near the complex.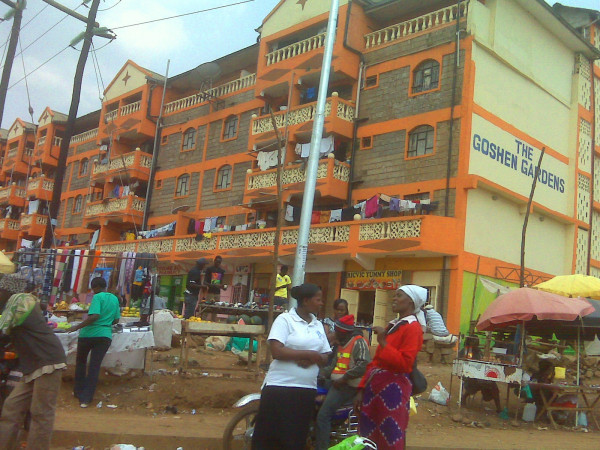 Kahawa – by @TheMumbi
Others advertise their properties on trucks, on large roadside billboard, in bank halls, have scheduled bus tours for prospective buyers to view the upcoming properties, or send out targeted promotions aimed at the 'laptop and latte' class ["Legacy Apartments (starting at Kshs 3.95M in the Dagoretti area] or proximity to high altitude [Serene Valley Properties, Sigona Valley – 3 and 4 bedroom villas in three different house designs costing between KShs 16M – 19M.
Land Bubble: According to an A4Architect Q&A, construction costs have not changed much it it's land prices that have. Elsewhere they note an infrastructure effect on land prices which can be as much as 1,000% compared to 100% for other land prices over a short period.
Coast Concern:
However at the Kenya Coast, it seems to be the other way as land issues are among the key grievances that have resulted in unrest and recent attacks on police and politicians.
Expo: Using a 3 bedroom apartment or 3 bedroom house for comparison and with the US dollar exchanging at about 85 Kenya shillings, some properties and exhibitors at the Expo included:
Nairobi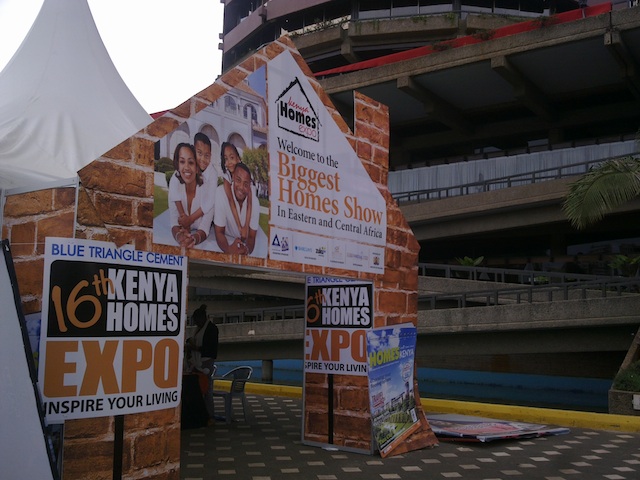 Home Expo, Nairobi October 2012
– The Prism (model drawing below) by Kings Developers will be a new office block on one of the Ngong Avenues in Upper Hill
– Dara Springs by the China Young Tai Co has 3BR Apts in Kileleshwa for Kshs 17M and they are also developing 6BR townhouses at Karen Splendour to sell at Kshs 95M
– Imara Gardens are 3BR Apts in Imara Daima for Kshs 7.8M
North
– Edenville in Kiambu from HassConsult has 3BR Camellia Villa's for Kshs 13.5M
– Chania Gardens in Thika have 3BR maisonettes for Kshs 8M
– Sahara Ridge in Ruiru have 3BR maisonettes for Kshs 9.5M at Hass Consult
– Canary Springs are 3BR Apts in Ruaka for Kshs 7M
South
– GreenPark Estate from Superior Homes (winner of Best Development in a 2007 International Property Award) is a managed estate
– Lukenya Hills have 3BR bungalows for Kshs 6M in Mlolongo, by SJR who put up the Safaricom headquarters buildings
– 360 Degree Court are apartments in Syokimau for Kshs 5.5M by Kings Developers
East
– Jacaranda Gardens off the Northern Bypass are 3BR Apts for Kshs 7.6M – built by the Sietco & the Chengdu Jiangong 3rd Investment Company
Out of Nairobi
– Milimani Apartments in Nakuru by Kings Developers have 3BR Apts for Kshs 4.5M
– Konza ½ acre plots for Kshs 2M from Petu Properties and these are 11 Kilometres from the Malili technology city which, along with Tatu City (on Thika Rd), are two new cities planned to be built near Nairobi
Financers
– Investment & Mortgages Bank
– KCB's Savings & Loan has finance of 13.5% available up to 25 years for ready built or for construction of homes. A Kshs 8.5M (~$100,000) home will attract monthly repayments of Kshs 195,000 over 5 years or Kshs 99,000 (~$1,160) if paid over 25 years.
– National Bank has mortgages of up to 20 years at 15%, with up to 90% finance.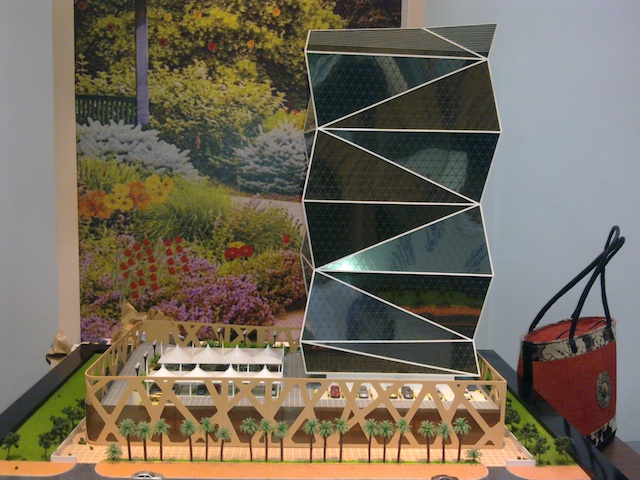 Planned Prism Tower
– Standard chartered has mortgages at 14.9% and a Kshs 8M loan can be repaid over 5 years at Kshs 189,000 or Kshs 104,000 (~$1,220) per month over 20 years.
Other
The Mortgage Company (TMC) is a mortgage broker that help home buyers source loans from different banks. TMC, with it's partners Oaks Construction and Rafiki Microfinance also has a makazi mema program that aims to finance and construct houses within 6 months for maisonettes (and bungalows in 4 months) with the building cost of a 3BR home being about Kshs 2.4M ($28,000)
Savannah Cement is the sixth cement company in the country – and they have two brands of cement, one of which costs Kshs 670 ($7.90) for a 50Kg bag
The Kenya Revenue Authority had at the stand there. Their brochures note that property owners in the Diaspora who rent our property in Kenya are meant to pay income tax in Kenya on their rental income.