On Tuesday, after a day of street protests
@iGaddo cartoon in the Nation
and online petitions by Kenyans, upset over yet another initiative by members of Kenya's parliamentarians (MP's or MPigs – as they were called in the street) to raise their salaries, President Mwai Kibaki announced that he would not sign a bill into law and thus appearing to halt their greedy March.@Mzalendowatch has the hansard (transcript) of the debate on the fateful night that the salary increase was discussed, and while there was a lively debate with lots of MP's contributing on matters like hides & skins, capital gains tax on land & shares, reopening Charterhouse Bank mining rights,  and capping bank interest rates –  on the subject of their salaries, no questions were asked on the complex motion which seems to imply that it had been agreed on to pass without much fanfare.
Kenyan leaders are overpaid
Turnover: These are interesting times in politics, and with Kenya's 10thparliament  in its' last few months, there appears to be in a grab & go mentality, given that many won't be back in parliament. In the last election in 2007, about 70% of MP's lost their seats, and with next year having the first election under a new constitution, many current MP's are gunning for other newly created seats such as senators and governors.
Despite their high salaries, many MP's have a track record of not managing their salaries well hence the push for a bonus send-off.
Performance Review: How can we judge how MP's have performed over the last few years? There's Mzalendo who have tracked key issues in parliament (publishing bills & hansards) and also rate all the current MP's as either bad, average, or good for their online constituents to judge. 
Also, the Data Science blog came up with a performance with a scorecard using recently available constituency data to determine how much value some MP's who led the controversial have actually performed for their constituents.
Debate Season: The BBC are in Nairobi shooting a month-long series of shows in Kenya including Hardtalk with leading Kenyan politicians and pieces on mobile communications and Lamu.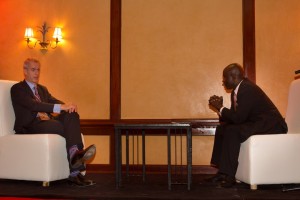 BBC Hardtalk anchor gets grilled in Nairobi
And yesterday, Kenya's media owners announced that they would jointly produce and broadcast a series of U.S style presidential debates in the coming months.
 So how will the presidential candidates perform in a debate? The APSEA blog analyzed the communication styles of three of the likely contenders  – Musalia Mudavadi, Uhuru Kenyatta and Kalonzo Musyoka (who's the current Vice President) and who are all likely to be on the debate stage in from November with some interesting findings.