Last month at the opening of the next phase of the Office Park complex,  Engineer Arasa of the Kenya Ministry of Roads gave a talk on the future of roads in Nairobi – whose construction this year will amount to  Kshs. 153 billion (~$1.8 billion) and reach an eventual total spend of Kshs. 2 trillion over the next 15 years.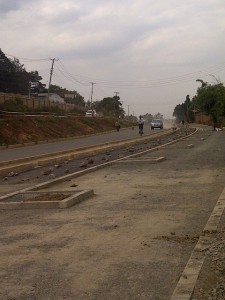 Kileleshwa road with a cycle path
The biggest one has been the Nairobi-Thika Highway, financed by the African Development Bank but other roads  are the Eastern bypass (connecting Mombasa Rd to Thika Rd)  and the Northern bypass (connecting Thika Rd to the Nakuru Highway)  which are being financed by the Chinese Government. There is also the Southern bypass which is a 28KM dual carriageway road linking Mombasa Road to Kikuyu, that will be constructed at a cost of Kshs. 1.1 billion and is jointly financed by the Kenya and Chinese governments. It will have  3 flyovers (including at community, Thogoto and Dagoretti Roads) and is expected to be complete by July 2015.
There are also the missing link roads in the west of Nairobi, being financed by the Japanese Government that will connect Ngong Rd to James Gichuru, and Gitanga Rd to Waiyaki Way – both though Kileleshwa –  and both are expected to be completed in March 2013. (Note the bulldozers at the Yaya parking now) 
Others include upgrading Langata Rd to dual carriageway at Kshs 2.6 billion (with an underpass at Bomas junction) and, and there are also the Upper Hill Roads being done in two phases (Kshs 2 billion, financed by GoK), starting with the widening of Elgon, Kilimanjaro, Upper Hill, and Bunyala Roads to dual carriageway  by May 2014.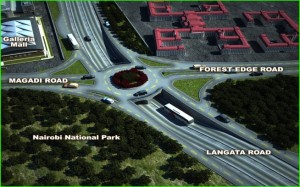 Bomas junction in the future
Other planned roads in the future include converting Adams Arcade – Karen – Ngong – Bomas to four lanes (with flyovers at Dagoretti Corner and Karen shopping centre)  – between 2013 – 2016 to be financed by the Chinese Govt at an estimated cost of Kshs 15 billion. Another will convert Outer Ring Rd to dual carriageway (at a cost of Kshs 6 billion, of which 3.5 billion has been sourced from ADB).
Some interesting point in the talk were:
Though stats show that 47% of Nairobians walk to work, the Roads Ministry hopes the new roads will

address several challenges such as unregulated public transportation, encroachment on road reserves, (past) low investment in roads, inefficient junctions and the already present traffic. They also know that more & better roads may result in more traffic e.g. Thika Road which used to handle 70,000 vehicles per day, will have 100,000 per day by the end of the year.

Thika Road will be a toll road.

Another missing link road may include a flyover at the City Mortuary junction.