A guest post by @AmkaKenya after a visit to Stellenbosch – a town in South Africa famous for wealth, education, and wines.
Getting There: It cost about 8,900 Rand (~Kshs 90,000) to Cape Town on South African Airways (SAA). Ethiopia Air is about half the cost, but one would have to take a much longer trip. SAA was really lovely and the airports in SA are nice. I only had hand luggage, but if you check in baggage, you have to collect and check it in again at Johannesburg, before continuing to Cape Town.
You also have to get a visa from the South African High Commission in Nairobi ahead of your trip and it's quite fast, with the visa being free for tourists staying less than 30 days.
Getting Around
: A friend collected me from the airport and the drive to Stellenbosch took about 40 minutes. It seems like everyone had a car in Stellenbosch, I didn't see any buses and I hear the taxis are quite expensive. I felt secure during the day, but all houses have alarms and secured gates at night.
Communications: I tried not to use my Safaricom roaming, as it was expensive to call and receive calls. Text messages were Kshs 10/- and I accidentally drained Kshs. 1,000 of credit because I switched my data on!
Where to Stay
I stayed at a GORGEOUS hotel based in a vineyard – Spier. I think the average room there was about $250 per night B&B. Not sure about the others.
Food & Drink Stellenbosch is wine country and friends gather to drink several bottles of wine almost every night. This is accompanied with billtong (cured meat) and possibly a brai (barbeque) when weather permits. They talk about the weather and traveling out of Stellenbosch! There is also a large student population who are very intelligent and fun to talk to about current affairs, politics and social change.
Shopping & Sight Seeing: I didn't get enough time to explore, but there's are lots of lovely (if a little pricey) little artisan shops with unique gifts and knick knacks on Church Street and Andringa Street. One gift shop called Big Blue was very cool with lots of funny and not too expensive gifts like ZUMA Presidential Shower Gel. (Eventually), I took home wine and billtong for most people.
Getting around costs about $25 per day and you can get by with English, but Afrikaans is also commonly heard. I didn't meet many black people, so didn't hear much Zulu.
Local legends:
The town was founded in 1679 by the Governor of the Cape Colony, Simon van der Stel, who named it after himself – Stellenbosch means "(van der) Stel's Bush". Also a few famous rugby and cricket players are from there.
Biggest surprise It was so cold!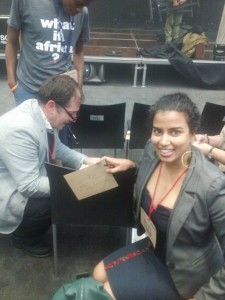 Author with Zapiro, the famous cartoonist
Odd Points: On the surface, Stellenbosch is a rich town – people drink lots of wine, eat good billtong and enjoy fine cheeses. On the weekend, they go to farmers markets, smile a lot, and have "brais" (BBQs) with friends. However, there is an interesting racial tension, dimension, as I assume there is all over South Africa. The Black Economic Empowerment (BEE) policy is a contentious method of "leveling the playing field". A black banker told me that, without BEE, he would never have the job he has in Stellenbosch. He admitted that since BEE, life has been great for him, but probably not much different for the lower class black South Africans that it was supposed to target. There was a young white couple I spoke to, and they expressed a surprisingly hostile attitude towards BEE; The young man came from a wealthy family that owns several vineyards and he claimed some of the farms had been "snatched" (back?) from his family and given to black people who had no idea how to farm sustainably. He claimed many of the farms are being ruined because black people, with no experience, are running them.
Note: Zapiro, is the famous cartoonist who coined the controversial Zuma shower-head cartoons.