–>
This weekend, there
is an East Africa Property Expo at the Sarit Centre in Nairobi – and what was interesting to see the presentation of several of properties being developed at the Kenya Coast for investors to sign up. Some noted, include:
The African Collection introducing
fractional ownership
with 1 and 2 bedroom houses in Malindi at Kshs 12.7 million (~$150,000) and Kshs 17.7 million respectively is now 60% sold.
Cowrie Shell Beach apartments in Bamburi are expected to be completed in November 2012
Golden Sand Resort from
Elegant Properties will have
1, 2,3 bedroom apartments, hotel and shopping mall in Diani Beach.
Milele Luxury Apartments
is a development by the
Presbyterian foundation (PCEA) near Haller Park, Bamburi, and it has
fully furnished apartments including 2 bedroom ones for sale at Kshs 21 million (~$247,000)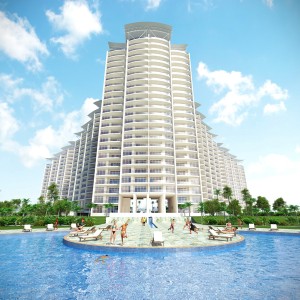 Ocean 7 developer drawing
Ocean7Kenya is a massive Miami-style development in Mtwapa by the Sun N Sand Group and 3 bedroom apartments are on sale for Kshs 30 million ($352,000).
Willow Creek Ranches are selling 5, 25, 50, and 100 acre land parcels at Kshs 90,000 (~$1,060) per acre for development. The property has 18KM of River Galana running through and other developments like an airstrip and University property nearby.
The next edition of the expo will be held in Kigali, Rwanda.