Some local merger activity of note
Barclays
of UK and South Africa's Absa Group are in talks to
merge
their African operations – but this is not really new as the plan was set in motion six years ago.
There's no certainty the talks will lead to any deal, which wouldn't be completed until 2013, the banks said in a statement. The combination would affect assets in Kenya, Botswana, Zambia, Tanzania and Ghana.
Barclays, based in London, bought 54 percent of Absa in 2005 for $4.5 billion to expand in emerging markets. Absa dropped its original plan to buy the Barclays assets in 2008 after commodity-driven economic growth in Africa sent their earnings surging, making the businesses too expensive to acquire. Barclays revived the plan in April 2011, aiming to consolidate operations at Absa headquarters in Johannesburg and move other work to Dubai, but Barclays' listed subsidiaries in Kenya and Botswana will be maintained.

Coca Cola
have prepared the Information Memorandum (with D Capital Partners, UK) to persuade local coca cola shareholders to buy into the deal that will see their shareholding in three local bottlers – Mount Kenya Bottlers, Rift Valley Bottlers and Kisii Bottlers merged into a new holding company called Almasi.
Coca Cola dominates the non alcoholic beverage in Kenya with a 78% market share, leaving EABL, Kevian, Del Monte, Excel with 2-4% each. The global giant has 6 bottling licensing agreements in Kenya with Coastal, Equator, Rift Valley, Mount Kenya, Kisii and Nairobi – which itself was boosted by earlier partnership deals ( with Flamingo Bottlers and East Kenya Bottlers Limited). The three bottlers each which each sell about 9% of cokes cases, will become Coke's second largest after Nairobi with about 28% of sales.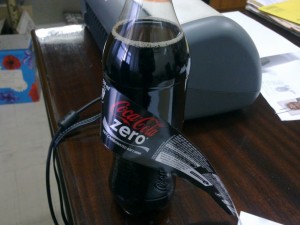 Peeling back Almasi
The boards of the three have approved it and now have to sell the deal to their shareholders as a potential value addition through increased revenue and cost savings of Kshs 2.5 billion ($29 million) derived from lower management costs (single management, single board of directors) shared purchasing, and the IM noted none of the three can afford to invest in new bottling line, or plastic packing lines for soda, juices and water
Mt Kenya has 2011 sales of about $29 million, Rift Valley $21 million and Kisii $18 million, with Mt. Kenya and Rift both having after tax profits of ~$1.3 million. A nominal shareholding of 20,000 (1,000 shares of par 20) in each, will be worth Kshs 80,000 (11,400 new shares) for Kisii Bottler shareholders, Kshs 526,000 (75,000 shares) for Mount Kenya Bottler and Kshs 112,000 (16,000 shares) for Rift Valley Bottler shareholders. The IM also dangles a carrot that, Almasi could one day be a listed company.
Haco
boost? – Tiger Brands which own 51% of Kenya's Haco are now
buying
63% of Dangote Flour Mills in Nigeria. Will Haco get a boost in the food business, exporting to Nigeria?
Kenol
Reassures – Kenol made a surprising (to many)
half year loss
due to foreign exchange hedging contracts. They subsequently issued a statement of reassurance that a planned majority sale to Puma Energy was sill on, with the due diligence process yet to be completed. Unfortunately, it is likely that, once the deal is done, Puma will also buy out the other minority shareholders and de-list the company – which is a shame, as it was one of the most pro-active companies in shareholder communications