At the entrance of the Ngong Racecourse is a set of office blocks that blend with the trees and grass of the racecourse comprise the Nairobi Business Park. It is part of the $300 million portfolio of Actis.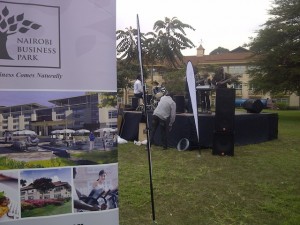 The first phase of the park was completed in 2004 and has attracted 'blue chip' tenants including DHL, Finlay, Nokia, BAT, and Coulson & Harney advocates. The next second will be 15,000 sq. metres of buildings to house cafes, restaurants, banks fitness centers, shops and is budgeted to cost $22 million.

The investors
aim for the Park, which overlooks the race track , golf course and forest complex to comprise green buildings that meet US green building council standards through measures like water recycling, rain water harvesting, solar lighting , and even eliminating air conditioning. Also to keep the green look, the Park which has one of the most generous parking rations per occupant, will have parking spaces underground.

The Park is expected to benefit from the future expansion of Ngong road to dual carriage way and completion of a bypass road that is about 2KM away (by Lenana School) – and when all the road are done, a drive to Jomo Kenyatta airport could take 30 minutes, and Westlands, 10 minute drive.

Actis ,
which developed both phases of the Junction mall and recently acquired 32 acres from East Africa Breweries on Thika Road to develop Garden City, with the largest mall in East Africa,
also own a majority stake in the Mentor Management that develops, sells and manages properties from concept through to investor exit. Other partners in the Park are the Association for the Physically Disabled of Kenya and the Jockey Club of Kenya.

Separately, an article in the Star last week
about the lure of office space in the suburbs,
noted that
the current cost of construction for high-end office buildings in Nairobi is about Sh60,000 (~$705) per square metre and that developers could yield a 100% return on sale or rent
.