Getting There: Flights to Luanda cost between $900 – $1500 for economy seats on Ethiopian, South African (partnering with TAAG Angola), Emirates and Kenya Airways (who have direct flights between Nairobi and Luanda). Note – our application for visas were done through Dar es Salaam, Tanzania, and these should be done early as it might take a few weeks, throwing off your scheduled plans.

On Arrival: I was lucky to have someone from our office pick me up from the airport, and I experienced no hassle – although I'm told that people go through hell. My colleague was interrogated for two hours for no reason at all last time she travelled to Luanda. They also ask for your Yellow Fever certificate after your passport has been stamped and as you are on your way to baggage claim which is weird cause if there's a problem what are they to do?

Getting Around: Matatus (called Candongueiros) and personal cars. Fuel is about Kshs 60 shillings a litre so it's pretty affordable in comparison to Kenya. The traffic is a nightmare though with only two main highways into the city centre where everyone works. The roads are great though, with three lanes on either side and no signs of potholes.

It is not safe to walk around on the street alone being a foreigner. You're advised to always drive around or, better yet, be driven around due to traffic, safety and difficulty in parking.

Where to Stay: The business hotel of choice is Trópico in the city centre and goes for $420 dollars a night excluding breakfast. However, I stayed at Talatona hotel, which was closer to the local office and much nicer/more contemporary at $570 a night inclusive of breakfast.

If you're staying in a good hotel, you're sure to not have power supply issues. But, the entire city is constantly under electricity cuts, and some residential areas have invested in their own power generators.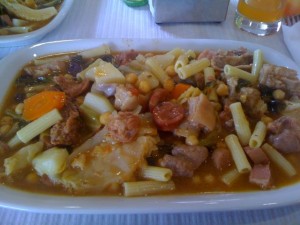 Dining: A regular lunch is about $30 while, it's $70 MINIMUM for a normal dinner, and over $100 for a dinner at a medium-high restaurant. Had a Rancho for lunch which is a huge plate of food, with everything imaginable (& imported?) in it. Quite delicious…too much though – and that plate of food cost Kshs 2000. Also enjoyed an ice cold Cuca, a light local beer in a champagne glass, which tastes a lot like Sierra blonde and costs Kshs 400. I'd say you need over $150 per day to get around.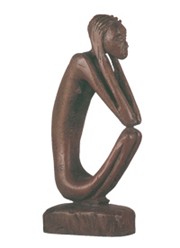 via http://www.ydamba.com/imagens/pensador.jpg
Communications: I was not able to get Blackberry service so had no access to my email on phone. I bought a local line for $9 and airtime worth $45 which I used during my four day stay there with constant access to data. Wi-Fi was also available at the hotel (Talatona – but was a nuisance to connect to….password after password, that I didn't even bother) and also available at our local office and was pretty fast.

There is no local English newspaper, and the National language is Portuguese but there are a few local dialects. Portugese is spoken everywhere and you'll be lucky to find a little English spoken for business. There is lots of influence from immigrants from Portugal, but you can hardly get by in restaurants / other social places without a translator.

Shopping & Sight-Seeing: Common is Luanda Bay, Luanda's Islands main shopping center, called Belas Shopping Center in Talatona. A typical take home item would be wood carved masks or a wood "Angolan thinking man" carving
.