Guest post about a visit to the largest city in Côte d'Ivoire (Ivory Coast), but not

capital which is called

Yamoussoukro.
Getting There: One can fly direct with Kenya Airways from Nairobi on a six hour flight for about $1,800 – $2,000. Alternative fares include flying Ethiopian Air via Addis or Emirates via Dubai for about $1,500 but with the additional stop over and a couple of hours extra.
Since Kenya is not part of the ECOWAS bloc, Kenyans have to to get visa's before they arrive at Port Bouet Airport (a.k.a the Felix Houphouet Boigny International Airport)
Visas are to be obtained from the embassies of other West African countries since there is no CIV embassy in Kenya, but this is not easy as others like Mali does not issue visa's in Nairobi. In some cases, and with the right introduction letter, you might be able to get the $50 visa on arrival.
A unique feature here is there are no forms to fill on arrival or departure at the airport, however Yellow fever cards are mandatory for travel, and white coated officials check for the cards on arrival.
Getting Around: The city traffic is very organized and while you might encounter traffic, there are several good highways (with two or four lanes), that encompass many parts of the city with an orderliness that put Kenya's sole Thika Highway to shame. There are lots of Peugeot and Renault on the road, while Toyota cars are rare. T
here are no matatus here, but you can find plenty of orange or yellow coloured taxis.
The city is a mix of French and English, but most of Abidjan is Catholic and many people speak English, which they learn in high school so it's easy to find your way around. Security is ok, with many people walking around at night.
Where to stay: Hotels including Novotel, and another one in Plateau. Many hotels don't include breakfast in their pricing, but have small kitchenette's where you can make small breakfasts.
The climate is hot and wet and it remains hot even in thunderstorms and so the air conditioning is always on in many places.
The local currency is the West African CFA and it exchanges for about 450 – 500 to the US$ at hotels or malls.
Communications: Buy a local MTN SIM card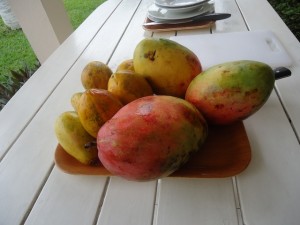 Food: is in plenty and with lot's of variety. They include alocco (fried plantain), ocean fish (poisson), chicken, cassava, couscous, guinea fowl, mongoose and other more exotic foods like animal skin and leather. Most meals are accompanied a couple of starches and legumes, while fruits like mango's are huge. Meals cost about 5000 CFA while a breakfast of black tea and a croissant is about1000CFA. There are also some familiar restaurant sights like Steers for those not too adventurous.
Shopping & Sight-Seeing: There are lot's of skyscrapers in the town, but a sight to see is the St. Paul Cathedral in Abidjan. However this is not to be confused with the world famous Basilica that is located in

Yamoussoukro

, 200 kilometers away.
What to buy: wood carvings, clothing items
Surprises:
The city infrastructure & buildings are unscathed and intact despite the election turmoil in 2010-11.

Though Abidjan is a large port city, there are few trucks on the highway.

Didier Drogba is not very popular in this city (Note: this visit was before the 2012 Champions League final)

There are few Chinese in the country. More common are Lebanese and Vietnamese nationals and their restaurants.