A guest post 
Getting There: One can fly to Zimbabwe from Nairobi with South African Airways (via Jo'burg), Ethiopian Airlines (via Addis Ababa), Emirates (via Dubai) or Kenya Airways (KQ) for approximately $850. KQ flies direct to Harare and sometimes via Lusaka and returns via Lilongwe, Gaborone or Lusaka. Kenyans do not require visas and there was no Yellow Fever certificate requirement.  If one plans on extending their stay in Zimbabwe, it's best to write more days (than required) on the immigration form rather than the exact number in one's current itinerary.
On arrival, you find that, what used to be Harare International Airport in the 1990's, is now the Domestic Terminal, while the new Chinese-built airport, is modern, airy and clean. Zimbabwe has four (4) airports around the country, but no domestic flights at the moment, besides charters.
The Immigration and Visa desks at Harare International are labeled in both English and Chinese.  Visa prices vary depending on nationality and tourists needing visas can pay up to US$55 for one.
The baggage claim area at the airport is spacious and luggage carts are free.  At one end of baggage claim, there are several glass cubicles where Customs officials search people's suitcases for items bought abroad and sometimes make one pay duty fees.
Getting Around: The taxi/cab minimum fare is US$4 for a distance of about 3KM or transport within the city. Transport outside the city varies, and one must negotiate before entering the cab. They speak English very well and Shona is widely spoken.
Harare is clean and organized with orderly driving.  The streets are Western style and organized into blocks.  If one has a driving license one can hire and drive any car so long as they have been in the country for less than 6 months and carry their passport at all times.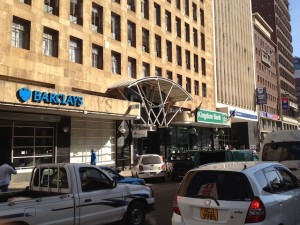 Harare is a nice city to drive around in. The area around Samora Machel Avenue and First Avenue has a mix of indigenous banks and international banks which have now been localized. Across from these banks is the Federal Reserve Bank of Zimbabwe.
Business and Economy: Zimbabwe is a multi-currency state. The economy was dollarized in 2009 and US Dollars, South African Rand and Euros are the most common legal tender, while Botswana Pula is also accepted. Cash is king as many places do not accept cards.
The US$ is the most preferable currency, and while you'll find the rare $2 bills here,  US coins are not in circulation. Obtaining change is a large problem countrywide in shops/supermarkets and with vendors, so cashiers will give out candy, matches, pegs, sugar packets, bottle openers or a pen as change.
Also, US dollar notes are washed in washing machines by individuals & shopkeepers to keep them clean (delicate cycle), then hang out on clothes lines to dry. It's the easiest way to have "crisp" notes in the absence of fresh new US dollar notes fresh from a mint.
Power blackouts are common and most Hotels and Lodges have generators. Also, while all the city roads had, street lighting, they were never on at night.
 Where to Stay:
Rainbow Tourism Group Hotel (Formerly Sheraton Hotel) costs US$110 per night. It is a huge hotel that is gold in color, has free Wi-Fi and is located close to the city center from where one can walk to fast food places such as Steers, Nandos, in 20 Minutes. Food at the hotel is good and ranges between $16  – 25 for the buffet dinner and the breakfast is also good in quantity and quality.

 

House of Garrison is a lodge in the upmarket suburbs where one can get multiple supermarkets and restaurants. It costs $100 and is a bit of a ride from the city center, but the lodge has a custom breakfast and free Wi-Fi

.

Meikles Hotel; a very nice hotel right next to Eastgate Mall, Zimbabwe Parliament and a beautiful public city park, which costs $275 per night for bed &  breakfast. The service is great and the staff attention to detail is very impressive.  The walls all over the large hotel have lovely photographs from Zimbabwe's history. The internet here is reliable, with Wi-Fi is US$1 for one hour.
Keeping in Touch: The airport has a "Rent A Phone" shop in the Arrivals area.  For mobile communication, its better to use the local carrier services, as roaming is costly. A local SIM card is US$4 and one is required to register it with their passport, and it can take up to 48 hours to activate your number. Phone airtime/credit is sold in units of US$1, 5, and 10.  Hotels in Harare have reliable Wi-Fi which is sometimes free, while lodges outside Harare can charge up to US$5 for 30 minutes of internet.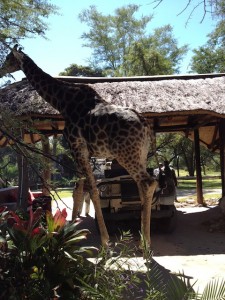 Shopping & Sight-Seeing: To view animals, one can visit Chengata, Pamuzinda and Shumba Lodges which are about 1 ½ hours from Harare and all very close to each other. Pamuzinda has a resident giraffe named Geoffrey, while at Chengata, one can get to pet and feed a small elephant family
Taking photos in or around the airport area or any "government" area is not allowed. Cars that are parked at the drop off area get their car wheels clamped immediately the driver leaves the vehicle, even if it's for a few minutes.
Food & Bars: Various familiar South African franchise restaurants are found in Harare such as Spur, Nandos, Steers, with meals going for less than US$8.  The Steers, Chicken Inn, Debonairs Pizza outlets in town all had the loose change dilemma, and at  Chicken Inn, they offered fried eggs, chili sauce tubs or cheese slices equivalent to one's change!
Food in top Harare restaurants is excellent especially the steaks. We visited an Irish pub, O'Hagan's, and a restaurant Millers Cafe, both in Harare's The Village.  A beer was US$4 at O'Hagan's and a ½ kilo steak meal was about US$15 at Millers Cafe.  However, a majority of the restaurants are closed on Sundays.
Odd Points: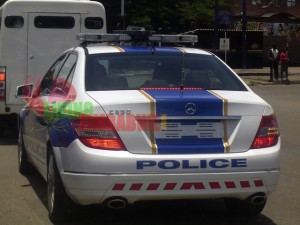 You may dislike President Mugabe but refrain from political discussions in public, it can get you in trouble.

 

Police use some Mercedes Benz as police cars, and it is claimed they often ask citizens who call for assistance, for fuel money before they to rush the crime scene.

 

 

When driving out of Harare, one gets to see the once "White Farms", which now have large tracts of long wild grass, with small patches of maize/corn growing.

 

A can of Coca-Cola soda at the Harare International Airport goes for US$10, but at other shops,

a 300ml bottle can cost

US$ 0.50.