Rights Issue: Kenya Airways just launched a rights issue, in which the airline hopes to raise Kshs 20.6 billion ($250 million) from shareholders its 73,612 shareholders (to whom it has mailed out a 36 page abridged prospectus in lieu of the full 236 page information memorandum)
While KLM (Dutch airline owns 26% of KQ) and the Kenya Government (23%) have committed to take up their full rights, thus assuring the airline of 49% investor commitment, some retail may be shocked to find out the amount they are being asked to pay for the rights. The formula works out as 16 new shares for every 5 owned (pay 3.2X their shareholding) so if one owns 1,000 shares worth ~Kshs 14,000 ($167), they are being asked to Kshs 45,000 ($542) to take up their full rights.
Some banks have lined up for the controversial practice of shares for loans, but with a rights issue there is some assurance of getting your full allocation. See more reading and analysis of the KQ rights here.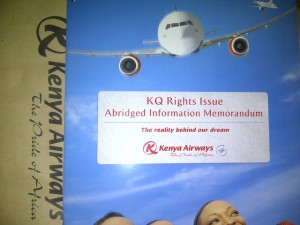 Not now: Both UAP Insurance & Family Bank have set aside plans to list at the Nairobi Stock Exchange for now. The bear market, (is it ending?)is said to be the reason, but Family have again postponed a listing to raise cash from a private investor instead. With UAP they are expanding in the region in Uganda, South Sudan, and DRCongo but they feel the market is not conducive and the will go for property/real estate investments to fund these new territories.
Why not NSE?: Africa Assets recently published their 2012 East Africa Private Equity Survey and while they found a lot of investor optimism, with 53 funds operating in the region (16 solely focused on investing in East Africa) , most deals in East Africa are 'small' (40% are under $5M) and none of the fund managers see IPO's at local stock exchanges as viable exit avenues for their investments (49% expect a sale to a strategic investor)
The Survey also notes that Kenya's Capital Markets Authority (CMA) is finalising the legal and regulatory framework for a new Small and Medium Enterprises Exchange (SMEX). This market will have less stringent listing requirements than the main Nairobi Securities Exchange (NSE), which is intended to encourage more SMEs to consider a listing.
Apart from the costs of listing and the paperwork, another general obstacle to SMEs listing is that it implies a massive transition: for companies that are, by definition, small and often family owned, the requirement to disclose internal information to an anonymous investment public and have outsiders involved in the company's decision making will be challenging.