Njenga Karume was politician & businessman who grew up on a Delamere farm and in his time he became one of the richest indigenous business people before independence, and later a reluctant, but effective leader of a controversial organization (GEMA), long-term member of parliament and one time Defense Minister of Kenya. He passed away in February 2012 having lived to be an old man though he seemed to slaughter a goat (he was a generous networker) on almost every other page of his autobiography Beyond Expectations – From Charcoal to Gold (written with Mutu wa Gethoi) which was published in 2009.
Here's another slate condensed version of the book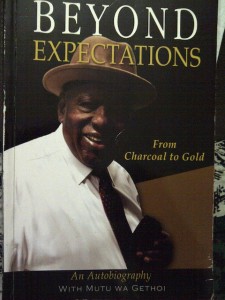 Seeing opportunity & taking advantage of changes:
His first business was in high school where he bought & sold pens to fellow students (by delaying paying his own fees) and undercutting the school shop (page 49)
Took up the opportunity to sell liquor when Africans were granted permission (116)
Took up the opportunity to go into wholesale business (102)
Went into tobacco distribution, though not a smoker (151)
Tried to buy shares in the Kenya Wine Agencies Ltd where he clashed with Njonjo (153)
Fortune in Family:
When he was unable to find good managers for his growing business empire, his father-in-law advised him to marry a second wife (122) and he learnt that prosperous men acquired additional wives to manage their property (285)
Credits his (first) wife for looking after his business even when he was in detention (115, 283)
Fortune in beer:
First visited a brewery when he was still a schoolboy (54)
He was approached to become a partner to a beer distributor (120)
To end a boycott that affected their profits, Kenya Breweries offered Kenyatta a quarter of the shares in the company (135)
South Africa Breweries offered him a partnership (271) which later ended his 38-year distribution arrangement with Kenya Breweries and resulted in a costly court case where he was (briefly) awarded 231 million shillings.
African businessman navigating the colonial era:
If detained for being a Mau Mau sympathizer, the colonial authorities would freeze someone's bank account (94)
He opened his first bank account with the Standard Bank of South Africa at Nakuru in 1951 (73)
Africans needed an exemption certificate to borrow more than 200 shillings from a bank (78)
Disgruntled African soldiers after (World War Two) found themselves neglected as their European colleagues got loans to buy land or start businesses (61)
Business & Politics:
Navigating presidential orders – see how they work for him (176) and against him (252)
Land politics could be volatile (216) but he was able to negotiate tricky land deals, such as one where a group of people wanted to subdivide a large parcel of land, something that had led many group schemes into dispute & fallout (178)
Some of his partners pursued Africanization with Asian partners and this cost them all KWAL shares (153)
Advice for Kenya Entrepreneurs:
In the world of business, there is no need to give away (your) secrets (51)
He advises that Kenya's (future) prosperity lies in education, technology and industrialization (318)
Gives tips for youth engaging in business (313)
Odd stories:
His (dying) grandfather tried to bequeath his goat-herd to him, and bypass the rest of the family (23)
He was not happy to take an oath in President Kenyatta's house (206)
The case of the missing silver beer mug (238)
How did matatus gain exemption from TLB licensing? (220)