Duncan Ndegwa is a former head of the Kenyan Civil Service and Governor of the Central Bank. He published his autobiography Walking in Kenyatta Struggles in 2006.
It's a tale of the history of Kenya, struggle for independence, nation-building versus devolution, disengaging Asians from commerce & Europeans from Government while Africanizing the civil service, reigning in unrealistic expectations of newly independent leaders etc. In it, some leaders like Odinga Oginga, Gikonyo Kiano, and Charles Njonjo don't come out positively and there are a whole lot of personal stories that you won't believ.. There are more biographies and books – some thin on the money talk, and they will be reviewed in a slate condensed format in a continuing series.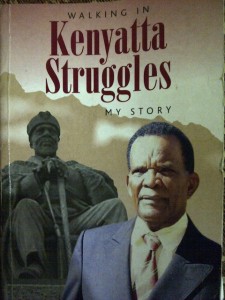 Reigning in budgets & spending
– Ndegwa argues that the uncontrolled government spending was the disease that crippled Kenya in the 1980's leading to paralysis in the early 1990's (444). (Earlier), Kenyatta supported a balanced budget and gave strict instructions to permanent secretaries – if you over-spend, you will be the first to go (485).
– Britain gave Kenya a 60 million pound golden handshake at independence But 12M went to settlement schemes, 13M to pensions of expatriates, 10M to technical assistance, and the balance to the military (312).
-The coffee boom of the 1970's enabled the government to buy embassy properties in New York, Washington & London, and aircraft for East African Airways (494).
– Devaluation of the British pound in 1967 had an impact on all the East African whose currencies were pegged to the pound (478). The government also had to come up other measures forex such as discouraging luxury imports when the country reserves dwindled after the oil crisis (470).
– Some foreign companies were borrowing all their working capital in Kenya while repatriating all their profits abroad (476).
– Ndegwa came up with a blueprint for the government in 1962 that he called the Kazi plan that emphasized labour-intensive schemes (Page 240).
– He proposed that Kenya print her own currency and manufacture bullets (simple technological processes that would save foreign currency) but both projects were shot down by President Moi on the advice of Njonjo (461).
Africans in Business: – The Crown Land Ordinance of 1915 deprived Africans of land ownership in the 1960's Africans were allowed to grow coffee under a (government) Swynnerton plan that also included issuance of free title deeds (232).
– Njenga Karume was one of the first Africans to be allowed to own a chequebook (472).
– Ndegwa chaired the commission that allowed civil servants to engage in private business and own property like any other citizen(497). He maintained that the greatest danger the civil service faced was pressure from politicians (500).
East African affairs: – Kenya sought military assistance from Uganda & Tanzania to send troops to Somalia which also refused to cease hostilities in cross-border matters (352).
– Britain offered Kenya as a second home for Jewish settlements, but people like Delamere kept Kenya from becoming a Jewish settlement ( 368).
– The Kenya Attorney General appeared determined to sabotage the East African community (401).
Eccentric Cabinet & Ministers: – Presidents should not be shown the central bank vaults – Kenyatta saw the CBK's and shooed away his security men so they would not be tempted (460) while Uganda's Amin demanded that their vault money be put into circulation – over-riding the advice of his governor who paid with his life (471).
– Was Odinga really a Marxist? Up till the 1960's, he was a struggling capitalist trying to build a viable trading company (363).
– Mwai Kibaki & Munyua Waiyaki kept out of full cabinet positions until they moved away from Tom Mboya (376). Earlier, Kibaki & Mboya came up with a highly respected development blueprint for the country.
– The Finance Minister missed the opening ceremony of the Central Bank (282) and later denied that he had a drinking problem (43).