Guest post on a visit to Haiti, two years after the earthquake where it's an odd mix of NGO's, dollars, insecurity, and voodoo
Getting There: Only British Airways gets you there with change over stops in London, New York (or other US airport), then on to Haiti for about $2,500…always with a one night sleep over and 22 hours flight time in total. You can use Kenya Airways too via Dubai, Paris, Miami then Haiti and for that you use a UK Visa
The airport (Toussaint Louverture International Airport) is pretty fast as long as you have your visa… You require a UK visa or US Visa to be admitted into the country. Unique: They have a band playing all the time to welcome you into the country. They also have uniformed casual laborers who offer to push your trolley from the clearance office to the pickup point about 200m for a small fee…..however the trolleys at the airport are not free like in Kenya…its $10 for one.
Getting around: Locals mostly use matatus which are called tap tap. Taxis are not readily available and they are not colour coded or marked or parked in certain areas….. They are few private vehicles, and take these at your own risk.
There are parking boys are on the streets and when there is traffic they dust your windscreen and car with a dirty dry rag and expect you to pay something small.
They have two main highways. Also, there's no parking lane on the streets. The roads are very narrow so people park half on the kerb and half on the road that causes mad traffic…. but the President is escorted everywhere by local police and UN police.
Insecurity Getting around you feel very insecure as riots are the norm and you see people walking with placards and complaining about the president, political affairs or the NGOs. This is because foreigners are targeted – so if you don't speak fluent French, and look exotic, you're advised to walk with a local or use a driver wherever you go. Basically, if you work for an NGO, you're a hostage (biggest targets for kidnapping) who rarely walks more than 100 metres.
Business & economy: The country is run by 1% of the population… and there's an absolute divide between the poor and rich. It's not surprising to see an Aston Martin, and rich people withdraw money from the banks on Friday because they are scared they might collapse over the weekend – so by Friday afternoon you cant find money in the bank!
You can use dollars or gouds (Haitian currency) to trade, but the ATM's do not dispense dollars. In October 2011, dollars started disappearing from the country as people were hedging against inflation and it became so bad that from December you could not get any dollars from the bank – and some organizations had to send money in from neighboring country and then have G4S transport it here so that they could pay for their expats and operations.
As is in most places, suburbs are next door to the slums and they have mass graves due to the earthquakes. Its mountainous and hilly and houses are built on the hills in an unfathomable way.
Two years after the earthquake, there are still camps (in the form of tents) in the middle of the CBD where the displaced people stay. e.g. in the park next to Hilton Hotel. Gangs have been formed in the camps and they are responsible for the kidnapping of NGO staff to solicit for money from the NGOs. The gangs are so good and efficient that if your wallet is stolen in the city, and you know a gang member in that area code, they will get it back for you for a fee with everything intact!
Communications My roaming line is expensive it's like Kshs. 180 per minute without taxes (post paid), and local calls to Kenya cost about $2. They are hotspots in a few expatriates restaurants.
Where to Stay: Hotels are like $140 -160 and these include Le Manoir $140, El Rancho $130, Ibolele $155 while Karibe, a 5 star is $320. Electricity is very unstable and generators are used a lot.
Customer service: is a thing of the past it takes at least 40 minutes to get your order in most restaurants… and once you finish eating they clear the table and don't present the bill….and when you ask for it, it takes another 30 minutes…..so you're advised to ask for the food and the bill together ..Walking out without paying is also an option as it actually takes them long to notice as its not an area of priority. Despite this food is expensive, and for a nice meal, the cheapest is ~$15. The main local dish is Rice and beans and beers cost about $2.
Shopping & Sight Seeing: The ladies mode of dressing on a day to day basis leaves nothing to your imagination….Maybe its Caribbean culture or the weather which is hot and hummmmid!!!. Also, an interesting sight while walking around is seeing pharmaceuticals hawked on the street – with medicines taped around big basins.
French Is the main language here and all the newspapers are in French or Creole. There are beaches & animal orphanages, but very few malls and nothing much good to shop.
They are 4 big groceries/supermarkets (like Nakumatt) where many shops and they also have very high end shops which sell some very expensive French designer stuff. Popular gift items are some very good paintings and pictures which are hung on the streets and in the cultural centres.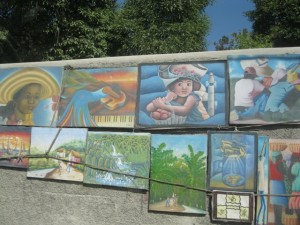 Odd points: Voodoo is the order of the day;  it's their culture and people carry anointing oil. It's no surprise to read in the papers or watch news of someone found walking with skulls. They have festivals and carnivals to celebrate it. and they drink a liquid which makes their eyeballs turn back to their heads and then parade in the streets doing their rituals. Creepy stuff! As with all Caribbean countries, reggae is the in- thing, but there is even voodoo music which plays in all the clubs (at a faster beat with drums and chants).