Ory (@kenyanpundit) reigned some of us with a recent comment that people are complaining on twitter about a lack of parking at the Junction Mall in Nairobi, while there are people near there who don't have enough food to eat.
I realized that it's something that happens a lot. Today I spent the whole morning searching for cooking gas (LPG) which has been in short supply in Nairobi for about a month. Is that a superficial or a genuine subject worth ranting about?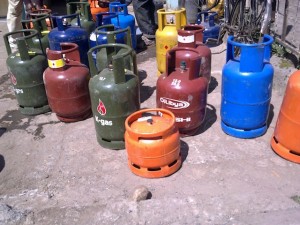 Other common complaints on twitter include:
– Not having tap water or being caught in darkness when the electricity distributed by Kenya Power goes off (including both at Jomo Kenyatta International Airport – JKIA)
– MPesa downtime which are almost a weekly routine with Safaricom
– Bad service issues at the bank or with an internet service provider
– A delayed Kenya Airways flight
– Newly done roads that develop potholes within a few weeks
– Companies that don't respond to email
– Satellite TV that cuts off when it starts raining
– The increasingly bad traffic (and bad driving styles) around Nairobi
These are hardly life altering situations to tweet or complain about – and seem like trivial first world problems in a third world country. But they are unnecessary inconveniences for busy people with plans and appointments who have become accustomed to things like having regular electricity & internet connectivity, the ability to send money by phone at any time to any corner of the country, the convenience of boarding a flight to Mombasa and arriving in time for a court case or business appointment & return to Nairobi the same day, not having to pay a bribe or tip to get good customer service from a government or private office etc.
They have expectations of service that, when not met cause a un-anticipated re-deployment of resources usually precious time e.g. six hours driving around town, burning (sometimes scarce) petrol in search of (LPG) cooking gas or having to call in a previous favour to accomplish a routine matter.
The sad thing about this is that (at least in Kenya) politics is the missing link, and people here become accustomed to have low expectations about political class (Sonko) and their decision making. This is a fatal assumption as the 2007 election period showed and as we grapple with unnecessary & expensive challenges of infrastructure, distribution, under-employment, inflation, corruption, taxation, the solutions require the adherence of the political class to leave the third world