A guest post by Josiah Mugambi – @JMugambi to a neighbouring coastal city with good manners and good food, proper Swahili and while Ujamaa is strong, so is government corruption as in Kenya
Getting there: Transport options from Nairobi include road (driving a car or taking a bus for the over 900KM journey) and air with Kenya Airways / Precision Air which is a 1:15 duration. There are at least two flights each way daily, with a return ticket going for about 410$.
The Julius Nyerere International Airport is smallish, and when busy, the queues for arriving passengers waiting to clear with immigration can be long. However, they seemed to be able to handle the large number of arriving passengers reasonably well. On this day, there was a large number of people waiting to buy their visas on arrival, however, I did not need one as East African citizens ordinarily do not need a visa for stays of less than three months. Visa requirements are easily found online
Once out of immigration, it is possible to change money at one of the few forex bureaus at the airport. (1 USD was equal to about TSh 1770 at the time of my stay)
Getting Around: Taxi's are readily identifiable, mainly white with yellow or green stripes. A cab (most if not all are not metered) from the airport to the Oyster bay area costs about 35-40k Tsh (approximately 20-25 US$) meaning that one to town would be slightly less as it is closer from the airport.
Most people use the "dala dala" public transport vehicles to get around; which are clearly distinguishable. The 'City Bus' operates several routes, which are clearly indicated on the front and side, with fares (nauli in Swahili) starting at 300-450 Tsh ( ~ $0.20) for most city destinations.
'Bajaja's – three-wheel Bajaj scooters are another popular form of transport for those who want added flexibility without paying for a taxi. They are however sometimes driven rather recklessly. For shorter distances, some may opt to walk but the hot and humid weather can be a disincentive.
Communications: I was able to use both my Kenyan phone lines in the country. I avoided roaming data (usually expensive anywhere in the world) as much as I could. For internet access, one can get a data modem from any of the four local mobile operators (Vodacom, Airtel, Tigo, Zantel) with Wi-Fi available in some locations (mostly restaurants). I noticed that the mobile market in Tanzania is more evenly spread among the four major operators: Vodacom 37%, Airtel 30%, Tigo 25%, Zantel (Zanzibar focused) 8% (2010 stats from CGAP)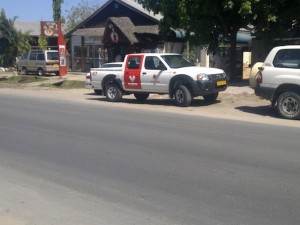 Vodacom Truck
Where to stay, What to eat: If you are in the central business district for business, it would be probably wiser to stay closer to town. Reasonable hotel rates start at $100-150 depending on location, and hotels around Sea Cliff area tend to be more expensive. I stayed at the Colosseum Hotel & Fitness Centre mostly because of the state-of-the-art gym. I also liked the Mediterraneo after visiting it briefly with friends.
Any (modern) economy is heavily reliant on electricity and Tanzania is no exception. I noted that the hotel I was staying at had a backup generator that seemed to go on nearly every night, implying that demand for electricity at peak hours was very high.
One thing that I loved about Dar was the quality of food. Many Kenyans go to Tanzania and say that things happen slower there, but when it comes to food, it's probably for a good reason as most of the time, the food is freshly cooked and delicious (and served in good quantities too!).
I loved the Mshkaki (a form of Kebab, either roast beef or fish) which one can order with lightly roasted bananas – absolutely delicious. If there's anything I miss from Dar it is this! I'm not one for beer, but the average price of a bottle starts at around 1500 TShs ( less than $1), and some (familiar) sodas (Coke, Fanta, Sprite) are sold in 350 ML bottles.
All in all, daily one can expect to spend anything from $10 to over $45 depending primarily on your mode of transport and choice of food.
Language, Stuff to do: Being from Kenya it was not too difficult to communicate in Swahili to locals, though their grasp of the language exceeds that of most Kenyans. I had an interesting conversation with a traffic police lady (after we got pulled over for a routine check) and she said that they (Tanzanians) get really amused about how Kenyans speak Swahili. They are very conscious about grammar while in Kenya we tend to gloss over poor Swahili (unless one is doing an exam of course).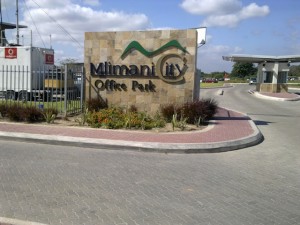 Mlimani City
I visited the Mlimani City Complex which is an interesting development bordering the University of Dar Es Salaam, with an office complex hosting multinational firms, a shopping centre and a residential park. This is a popular shopping location outside of the city centre with a large supermarket as well as a theatre and several banks. The Sea Cliff area is popular, especially for tourists who buy African art, and Tanzanite stones.
I noted that many security guards are armed with a shotgun which lent some semblance of security (unlike in Kenya where your ordinary watchman would have at most a piece of wood to defend himself). Walking around is not advised in lonely places, especially on the beach.
As with many coastal areas, the main leisure activity would be visiting the beach. I especially liked Kunduchi beach, situated north of the city centre, with its white beach and from which several windsurfers took advantage of the excellent conditions to show off :). A weekend excursion would be to take a short trip to Zanzibar by boat, but I was not able to do this.
Economy and Society: In Kenya, there is a lot of talk about corruption, but even in Tanzania many of the locals complain about the corruption that is rife in government. There have been several corruption scandals lately and my taxi guy was rather emotive about the subject.
Mwalimu Julius Nyerere is still highly regarded by many, though some say that he held back economic development somewhat (compared say to Kenya). I however admire the level of social integration present. Unlike in Kenya, there is a distinct sense of unity (possibly due to Julius Nyerere and Ujamaa) and 'negative ethnicity' is virtually unheard of – Something Kenya could learn from its neighbour!
Also, unique, I noticed children holding 'School Children Crossing' signboards at the zebra crossings helping fellow students cross the road, and that drivers respected their right to cross :). Tanzanians are generally courteous and respectful, (a sign of ujamaa?), and generally follow traffic lights and rules – another thing I liked about Dar.
All in all, a good place to visit, especially on holiday.