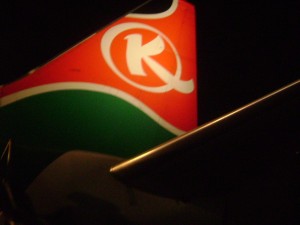 Having not been to an AGM in 2011, I decided to take an hourto peek at the Kenya Airways (KQ) one as a shareholder and for sentimental reasons, including the love of aviation, because a KQ AGM was the inspiration for this blog.
There's not been much change over the years: KQ, which has over 70,000 shareholders, has been generous with SWAG to shareholders over the years and this has ensured that they always have some good attendance (they also provide free transport from town to the Bomas venue of the AGM) – however this also means that their meetings are long and drawn out, with lot's of time wasting (Chami) and inane questions (@ChrisKaranja 90% of all questions are related to umbrellas and food)
Some notable points
Investments: Regarding their Precision Air investment, (It's now in the middle of an IPO) a shareholder noted KQ which owns 49% of Precision, posted a loss of Kshs. 188 million for the year to March 2011 on their investment – and looking at the Precision March 2011 ones, their pre-tax Kshs. 250 million profit was halved by forex loan revaluation adjustment of Kshs. 125 million (so the current shareholders in Precision swallowed the loss before the IPO). On their dormant investments, the KQ Chairman said one of them would be revived soon (Probably Flamingo Air, or one of two cargo companies)
Dividend: The March 31 annual dividend will be paid on 16 November.
Board: Amb. Denis Afande was retiring as a director, but there were no fireworks as in previous years – as this time, the board has settled on his replacement. Amb Denis Awori, a former Kenya rugby official and ambassador to Japan, and currently Chairman of Toyota Kenya was introduced by the KQ Chairman. He spoke briefly on his passion for the airline; he studied aeronautical engineering, was a trainee at East African Airlines (EAA was the precursor to KQ) and as ambassador to Japan participated in promoting the airline as it featured heavily in tourism promotions that were run.
Rights Issue: The Chairman spoke about their need to acquire more aircraft and pay for them including 10 Embraer 190 aircraft. The airline settled with Boeing in April on the delayed 787 aircraft (some of which were to replace Boeing 767) and the first one that was expected in October 2010, will now arrive in fourth quarter of 2013 when they anticipate loads will have increased significantly.
KQ are getting permission from shareholders (and closing the books) so they could go to the Capital Markets authorities in Kenya (& Uganda & Tanzania) but they were yet to determine the size or price. One shareholder (Mr. Karanja) cautioned that it was potentially dilutive (4X), came at a bad time (share price is low – a market price of 26 compared to NAV of 50 per share) and that a convertible bond or cheap overseas loans were better options. (FC) Karanja agreed with this, adding that they had not yet set the date, price, and structure, except that the funding plan would be a mix of debt and equity and that the new shares would create capacity for when the board decided the time was right. The KQ Chairman noted that both the principal shareholders – the Government of Kenya and KLM supported the increase in capital and the rights issue.