A guest post by Marvin Tumbo, the CEO of Socialight Media
Getting There: Kenyans don't need visas when flying to Botswana, nor do they need yellow fever vaccinations, which several African countries require. But if you are traveling via Johannesburg, you might be required to get yourself a transit Visa. I have not experienced this, but know of friends from Nigeria who on several occasions, have not been able to fly via Johannesburg because of issues with transit visas.
It costs around US$700 for a return flight to Botswana, and for travel from Nairobi, the ideal flight to take is Kenya Airways, which flies directly to Gaborone 3 times a week. However, there have been occasions when KQ flights to and from Gaborone have been canceled on short notice as was the case when I returned this time.
An alternative route is to fly via Johannesburg and then take Air Botswana or South African Airways onwards to Gaborone. However, while it is only a 35-minute flight between Johannesburg and Gaborone, a problem may be the connection time as you may have to wait 4 to 6 hours for the connecting flight.
The last time I came to Botswana, the Sir Seretse Khama International Airport was still under construction but now after two months, they are finishing up and most of the Airport is in operation. Currently, there are no shops at the Airport yet, just a restaurant. I had been told that, prior to the upgrade, the Airport had the best perfume shops, which sold world-class perfumes at a fraction of the price – and maybe these will come back.
The airport is not as busy as Oliver Tambo Int'l Airport or JKIA so checking in and out is pretty fast with no hassle at all.
Getting Around: The local money is called Pula and it has the same strength as the South African Rand. The largest denomination here is 200 Pula.
There are many taxis from the Airport and it costs between 60 and 100 pula ($6 to 10) to get to the city. Some of the hotels usually provide your transport back to the airport for free when leaving, like the Cresta President.
If you have meetings within the city, you can use Taxis, which will cost you between 20 and 40 Pula (less than $5). There are no traffic Jams here so going to and from the Airport and around the city is not a hassle at all. The roads are in great shape and there is a healthy respect for the law here, which means no funny (bad) driving.
Gaborone is a very secure city, and Safety-wise, it is very safe to walk around any time of the day or night. I saw very few police officers for the duration I was there and locals will tell you that there are no horror stories like robberies and muggings or worse. You even feel that the place is very safe without being told.
Botswana also has our version of Matatu's plying various routes. I did not get to use these but compared to the Matatu's in Nairobi, they look more organized and respectful.
Hotels: While there, I stayed at the Cresta President Hotel, which is one of the best Hotels in Botswana. It has good Wi-Fi and is located at the centre of the City, a mere 15 minutes drive from the Airport, and is also within walking distance of every office you will probably need to visit. Similar 3* and 4* hotels cost between $100 and $130 per night
Communications: Orange, MTN, and Mascom are the leading providers in Botswana with Mascom being the largest in terms of subscribers. However, you cannot roam with Safaricom here but can do so with an Orange line, and while phone calls are cheap, they are not as cheap as in Kenya.
Language: The local language is Tswana but everyone speaks English as well so there are no language barriers here. You will hear the word Dumela a lot which is how you greet people in Tswana. – and you also reply by saying 'Dumela' as well. The local newspapers are all in English with the most prominent ones being Mmegi and the Botswana Guardian. There is also the Daily News, which is a free newspaper published by the Government.
Sightseeing & Shopping: If you really want to see what the country has to offer, the Okavango Delta in the Northern part of Botswana is the place to go. Game shooting is allowed here but only for certain animals – (and not) the Big Five which are heavily protected.
If you want to buy anything to take back home, remember there are no shops at the airport yet. Instead try the variety of malls in and around the city as well as craft fairs, which are the equivalent of Maasai Markets in Kenya. These are open every day but only a few of them will be on Sundays.
Food: There are many places where you can eat and for as little as 20 Pula or as much as 95 Pula ($10). To eat local foods, ask to be taken to The Station and there you will find the best local food for just 20 Pula. At high-end restaurants, good local food will cost 60 to 100 Pula (10 to 15 USD with drinks). Make sure you check out Cattle Baron and Beef Baron, and try their speciality which is the Beef Schnitzel or T-bone with baked potatoes, papa, Seswaa – the Botswana National Dish. Try out Morogo as well. The local beer is called St Louis and they offer it as a Lager or Export, and the latter has a better kick to it.
On any given day you will spend between $40 and, on the higher side, $100 having meetings, lunches, dinners and a couple of drinks in the different parts of the City.
Business & Infrastructure: As a business destination, this place looks God-sent. There are no issues with electricity or water for that matter. Registration of a business is pretty straightforward and costs roughly 500 Pula to register and 1,500 Pula for a trading license so, in total, this amounts to $250.
When you look at your normal day in Nairobi and compare it to here, there are immense business opportunities here. However, all the above is the insight of a local lawyer who will be handling our legal issues here. We are just finishing setting up shop and I can update this later based on experience. Our lawyer also warned us about xenophobia in Botswana though this is not something I have experienced yet. Most of the people I met were really receptive and excited about meeting a Kenyan and talked positively about Kenya and Nairobi.
Shocker One thing to note is that almost all drivers in Botswana respect the law as far as driving is concerned. There are no traffic police here to direct traffic, and if you have been to Nairobi or Lagos or even Kampala, it's a shock how organized the traffic is. People adhere to road rules even if they are the only ones on the road, and there is no running through red lights even if it is at 2 A.M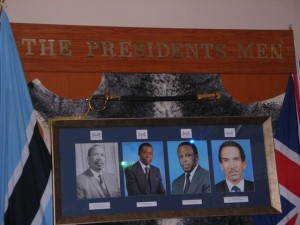 Summary: On the face of it, Botswana is a great place as both a tourist and business destination. You will hear and read a couple of corruption cases, but the legal system here will give you investment confidence because of their conviction rate. A friend at the AG's Chambers informed me that regardless of who you are, there is no escaping the law. At the end of the day, my deciding to set up my business there also means I am a convert!