I've had many recent trips to the post office, tracing lost dusty packages, new keys, dividend cheques and other mail which 85% of which are bills & statements, and 10% are marketing materials & junk. Very rarely do you get a personal letter in the mail, and that's usually around Christmas.
The post offices are run by teams of (mostly) older workers, who are well trained, dedicated, and honest in their work. However they work in a rigid bureaucratic environment and that means that almost every process has to be cross-checked & triple check, with signatures to be obtained by several people seated a few feet apart.
When Equity Bank released their half-year results last week, their CEO James Mwangi spoke about the bank having reached the maximum productivity that could be attained from physical bank branches. They were now shifting to a whole-hearted embrace of agency banking model, which they had initiated in Kenya and sold to the Central Bank.
With agency banking, Equity has been converting small kiosks, cyber cafes (which are dying), pharmacies, garages into mini banks (open your own bank). Equity envisions having 5,000 agents (2,300 are now operational) and also have them sell insurance, airline tickets, and other services.
For Equity they only pay commissions per transactions that agents complete as opposed to the fixed cost of operating their branches with. And for agents, the current agency rules means that they can't be mutually exclusive (like phone dealers and m-pesa agents tied to Safaricom). This means a pharmacy can offer agent banking services for KCB, Equity, even smaller physical reach banks like DBK and Giro.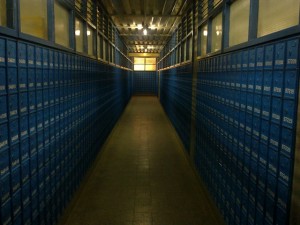 Mailboxes at Nairobi Post Office
While these new agents have to overcome weaknesses of customer service, training, security (physical & cyber), the post office already has many of these attributes taken care of, plus they have steady foot traffic for letters, and parcels in their well known & guarded premises, and with ample space to expand.
The local post office currently acts as (non banking) agents for the among others; the Kenya Revenue Authority (parcels are opened and tax is assessed and has to be paid before release), Old Mutual (mutual fund), Safaricom (airtime), Airtel Money (mobile money transfer, pensions (posta), salaries (for school teachers), and several utilities – DSTV (satellite TV), Nairobi Water, Kenya Power, Kenya Charity sweepstakes (Lotto) etc.
A new addition is acting as bank agents for KCB customers who are depositing or withdrawing cash. And that could be the future of the post office – as a financial supermarket for several banks, financial and utility firms.