African Union Kwame Nkrumah Scientific awards. D/L 15 September.
Arthur B. Schultz Foundation grants aimed at non-profit groups involved in women's empowerment and disabled mobility solutions.
Changemakers.Org Details here on awards for citizen media ($5,000) and health, excellence, opportunities, other.
DStv: Eutelsat Star Awards are open to 14-19 year-old students in 42 countries to write an essay or design a poster on satellite technology and how it can assist further development of their communities, country or the African continent. D/L 26 August.
Infodev: Piloting virtual incubation seeks organizations in East Africa ad. D/L is August 15
National Museums of Kenya: For design of a Mashujaa national monument. D/L is 9 September and prizes are of Kshs. 300,000, 200k and 100k.
Orange: African Social Venture with prizes for digital projects in e-health, mobile banking, digital /mobile applications for education or agriculture that address needs of the 'bottom of pyramid'. 3 winners will receive financial grants (25K€, 15K€, 10K€) and a 6-month mentoring program. D/L September 15
Pan-African Awards for Entrepreneurship in Education. Details here and has prizes of $10,000, $5K and $2K.. D/L is 10 October.
Standard Bank / Stanbic: graduate management program – D/L is August 15.
UN Awards for Young Innovators (aged 18 – 25) and digital innovators (non profits). D/L is September 15
Western Union is on the hunt to find the most globally networked individual. It is open to anyone with a facebook account and the site also lists some entering remittance figures for the 200 countries where Western Union is represented.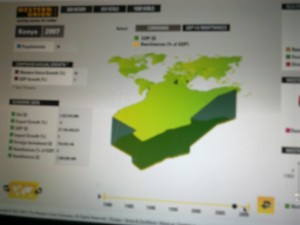 WWF KENYA / NETFUND Nature Challenge Africa from the Worldwide Fund for Nature (WWF) Kenya and the National Environmental Trust Fund (NETFUND) is a green business competition for entrepreneurs and targets businesses engaged in conservation, biodiversity and livelihood programs, that are seeking finance in the range of US$10,000 – 1 million.
EDIT
More found at Savvy Kenya blog
Tandaa Digital Content Grant: The Tandaa Local Digital Content Grant is a grant to support ICT in Kenya. It is like seed funding for companies entering new media and ICT. In particular, the grant seeks to support products and services developed for the Internet and mobile phone. D/L 22 August
Nokia Create For Millions App Competition: Submit your best Series 40 Java or web apps in Nokia's 'Create for Millions' contest to win your share of cash and prizes, worth 1 million euros. D/L September 1