Comparing changes to three months ago, last year and June 2009 in an interesting quarter with price swings in food, currencies and fuel.
Less Expensive:
Nothing really that's being measured
About the Same:
Communications: Cell phone rates are still low, and while Safaricom appear to have survived the Airtel-initiated price war, recording a marginal full-year profit drop of 12% down to ~$220 million on increased revenue of 12% to ~$1.1 billion, the government is getting anxious about the price wars and impact on mobile companies and tax revenue.
Last week, Kenya's President seemed to direct for an end to the mobile price wars in Kenya. Also Essar's Yu Mobile has denied they are considering an exit from the Kenyan market while Safaricom and France Telkom (Orange) are about to sign a tower sharing agreement.
More Reading – The Economist has an interesting article on the India mobile phone market which may explain the vision the direction that Bharti Airtel is taking in Africa.
Other food item: Sugar (2 kg. Mumias pack) is at Kshs 190; a year ago it was 200, and the year before was 175. It will likely stay the same until the COMESA sugar import ceiling ends in 2012.
More Expensive:
Fuel: A Litre of petrol fuel is now Kshs 114.93, which is 26% higher than a year ago and 58% higher than two years ago. The fuel sector is characterized by accusations and allegations every other week about favouritism, manipulation of prices & shipments, corruption, capacity etc. – all while the price continues to rise.
Staple Food: A 2 kg. Unga pack (maize flour), which is used to make Ugali that is eaten by a majority of Kenyans daily today costs Kshs. 130 at Uchumi. This is 83% higher than the 71 of a year ago – and two years ago it was 92, the year before it was 73. The price fluctuations may have some artificial influence by maize farmers holding on to their crop in the hope of a better price from the Government and millers. Shrugging this off, the Government today waived tax on maize that will be imported between June and December 2011 to avert a food disaster in the country.
Foreign Exchange: 1 US$ equals Kshs. 89.37 compared to 80.6 last year and 77.9, two years ago. It is reported to have not seen such lows since 1994 when Goldenberg scandal exploded and shook the Kenyan economy. However, while focus is on the US dollar (which this month exchanges for less than a Canadian dollar) other currencies are also at levels not seen in years – like the Sterling Pound at 146, Euro at 129, and South Africa Rand at 13.
Utilities: Electricity: Many customers of KPLC have been converted to pre paid electricity and the only to get a breakdown of costs is by buying a token at a Kenya Power office. It's much more convenient to re-load or top up electricity by mobile phone payments (M-pesa or Airtel money) and a payment of Kshs. 500 obtains 29 units of electricity – compared to 51 units for the same amount two months ago, – implying that electricity costs 43% more!
Meanwhile the city's other major utility provider, the Nairobi Water Company also plans to convert some of its customers to a pre-paid billing system to stem illegal connections and improve revenue collection.
Entertainment: A bottle of Tusker beer (at a local pub) costs Kshs. 140 ($1.55). However, the recommended retail price of a Tusker bottle went up to Kshs. 95 in April (after last being hiked by 38% to Kshs. 90 after the June 2010 budget speech) and beers currently sell for between Kshs. 150 – 220 in most Nairobi pubs.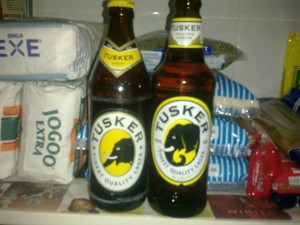 Old and New Tusker bottle
Tusker was re-launched in a new bottle in April, but that rebrand has received mixed reviews with some patrons calling the bottle a Probox after a Toyota station wagon that has a similar boxy shape.
EABL is also in the process of severing ties with SAB Miller a rival South African brewer, after many years of a cease fire & cross ownership – and they are expected to soon renew their beer battles in both Kenya and Tanzania.