Guest post by MVQ
Intro: Lagos is not the most tourist-friendly city in the world but it does provide a good taste of West African culture and is a "must see" destination for anyone looking to do pan-African business. As locals will tell you, there aren't many sites to see, there are only a few beaches that are tourist-friendly, and the congestion can be quite overwhelming. But if you can get over that, you are in for a cultural treat, an enviable nightlife, and a peek into one of the most dynamic African markets.
Getting There: I took the KQ flight from Nairobi to Lagos and it was actually quite nice and relaxing. Lagos' airport is a blast from the past, it appeared as if it hadn't been updated in decades and upon entry the only sign of modernity is a large monitor with adverts near customs.
The customs process though was surprisingly efficient. Mine was the only flight to have arrived at the time and there were 5 customs counters, with 3 for non-citizens that moved fairly swiftly. You need to get a Nigerian visa in advance to get through customs (give yourself 2 weeks to get the visa, as you must hand over your passport, pay ~$100 for US/UK, $50 for other countries, and prove that you have a destination in Nigeria.) You will also need a yellow fever card
To my surprise I was able to get through customs in about ten minutes – and based on the reaction of my friends though, this is a rare occurrence. Apparently customs is a major pain and you must pay for expedited service (there is some rumor that the expediters and the customs agents may be in cahoots.)
Despite not wrapping my luggage, it came out in one piece. Later I was warned by frequent travellers that Lagos airport is one of the more risky destinations for "open" luggage, so my advice is to try to get your luggage shrink-wrapped before flying into Lagos.
Getting Around: When I got out of the airport, the cab drivers were quite aggressive, and I ended up riding in to the city with a friend. My advice is to try to get your contact in town to send a car for you to avoid the aggressive cabbies. If you can't get a car, then you should expect to pay 5,000 Naira for the 30 minute to an hour long ride into the city.
When in the city the best way to get around is via a car service or taxi. Try to link with a reliable driver, and for newcomers, Red Cab is generally a pretty safe option. Each cab ride should cost you between 2-3,000 Naira ($13-20) if traveling in the Lekki, VI, Ikoyi, or Yaba areas, and you should clarify the price up front.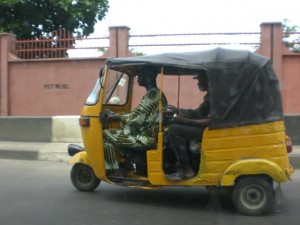 Do not walk around by yourself at night and take caution during the day, and look out for the Okadas, ("kamikaze moto taxis") which are the fastest, but most dangerous means of transport around Lagos.
Communications: The best way to communicate is via mobile phone, and you can buy a SIM card for prepaid minutes upon arrival. Most people here have two phones from different carriers as the services are known to go out every now and again. I signed up with MTN and was reasonably happy with it; I plugged it into my Ideos Android phone and used the prepaid airtime for voice, data, and to create a wifi hotspot for my laptop. Other major players are Airtel (Zain), and Etisalat.
Hotels: The hotels in Lagos are very expensive as the mid to high end hotel market is sparse. The Sheraton Four Points, Radisson Blu, Southern Sun, Eko, and Federal Palace are probably the most tourist friendly and range in price from $300 to $600 per night.
Getting Around: The people in Lagos are fairly aggressive, but they all mean very well and are generally quite kind. I found that I received amazing hospitality from friends and colleagues in Lagos. The Nigeria pride is real!
English is the primary language in Lagos, though you do hear Pidgin, Hausa, Yoruba, Ebo, and other languages. The best paper to get while here is "The Punch" – and , though there are about 4 mainstream papers, expect about half the pages to be filled with full page ads and "congratulatory" statements about public officials.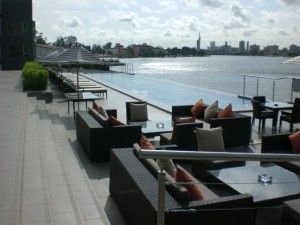 Food & Bars: You must try the local food when in Lagos, and specialities like Fufu, Melon Seed, Okrah Soup, Suya, and Pepper Soup are staples. If you like spicy food then you will love the food in Lagos.
Star beer dominates, and you can get a large bottle for 800 Naira ($5.) I strongly recommend Star over Gulder (the other local favorite), as it has a good taste and is fairly ubiquitous.
Electricity: Be warned – power transmission is very unpredictable in Lagos. Even in the most affluent neighborhoods one power outage a day is not uncommon and some areas will go for weeks without power. After the first two outages you will get used to it – just make sure that your phone, laptop, etc. are always charged up!
Summary: Overall, Lagos is a great experience. The frenzy, the opulence, the fashion, the food, the traffic, the beaches, the hospitality, and the excitement are all palpable. Enjoy your trip!