Adapted as a guest post with input from Coldtusker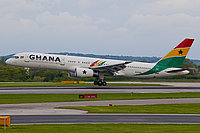 (Pic via airliners.net)
Getting There: Accra's Kotoka airport is small & dated [but efficient] airport but the corridors can be a challenge o navigate if you have lots of luggage. An interesting feature of the NBO-ACC flights are the traders [mostly women] with HUGE bags/packages [from shopping trips in Dubai or China] who you can't even see while they push their carts. It's like a moving wall of goods! These 'packages' are held together by well-sewn polypropylene [plastic gunias] material. Emirates flies A340, with larger cargo bays while Kenya Airways (KQ) lies much smaller 737-300s. Other planes on the tarmac include Delta & British Airways both which have daily flights.
No visa is needed for Kenyans, but the flights are costly such as Kenya Airways (KQ) which is $1,000 – Ouch!
Getting Around: A taxi trip from Kotoka to town costs about $5-7 but some hotels will provide transport if you let them know in time. The traffic from Kotoka to town even at the worst of times is much better than Peak hours in Nairobi. Taxis are the most common (for visitors) way to get around; they are easy to catch in most places, and unlike Nairobi, these guys drive around 'looking' for customers. They are 'painted' with AMA (Accra Metropolitan Area) zones & numbers and are easy to spot. Plus they honk at you if they think you need a ride. Fares are not fixed but negotiable. So negotiate! The 'quality' of these taxis varies from ramshackle taxis to new ones. Some have windows that don't open while others have AC. Always ask since Accra can get hot & humid. Think Mombasa. Boda bodas are available, as are matatus or buses. It is quite safe to walk around in many areas during the day, but at night, always use taxis.
Money: Cedis [GHc] & Pesewas. US$ = GHc1.5 but some still quote the 'old' Cedi which is 10,000x the 'new' Cedi. You can change money in many places with few restrictions. Always confirm what you will get NET after all fees. There are several forex bureaus all over the place especially Osu.
Hotels: Tend to be pricier than Nairobi. A nice 3-star hotel costs $120-170 for a single room! The pricier ones have WiFi, swimming pool, etc. and include a good breakfast. There are others at cheaper rates of ~$60 in 'busier & noisier' neighbourhoods which look/feel better than our River Road ones.
Communications: Local calls are reasonable now that Airtel [lower per minute calls about US$ 0.06 per minute] is in Ghana, slightly more compared to Kenya. MTN is king, and while there are other options including Tigo, Airtel adverts are everywhere. You can use Airtel Kenya to receive calls at no charge, while SMS to Kenya cost ~Kshs 5-10, which is very convenient. Local SIM cards used to be easy to get (from street vendors) but are now a hassle, as you have to be registered. Some hotels have WiFi, and there are many cybercafés.
Food & Bars: – The local food varies with the region but expect Yams, Cassava, Peanut sauce to be part of any 'local' meal & much more enjoyable compared to eating Italian, Indian, Continental [available anywhere in the world]. There are also lots of Lebanese restaurants as there are a significant number of Lebanese live in Accra.
– Instead of bottled water, water is commonly sold by many vendors & firms in plastic pouches (costing Kshs 5/=). You ask for it as 'pure water,' which is useful for washing hands, or face in the heat.
– Beers: depends on where you go but costs between $1-5, and is widely available – though there is a significant Muslim population there so watch out for Ramadan month. Guinness Breweries (Diageo) is #1 followed by Accra Breweries (SABMiller). Multiple brands of beer.
– In bars, politics & business are common topics. Smoking is allowed indoors so you may prefer to sit outside. There are lots of small or regional political parties similar to Kenya, but since Ghana came out of a civil war less than 2 decades ago, they want 'peaceful' elections [but never say never]. Two-term limits apply but old presidents never fade away! Jerry Rawlings remains popular.
– Football: is HUGE, and as in Kenya, Arsenal & Manchester United fans are everywhere, but Arsenal seems to be the overwhelming favorite. Of course, everyone looks up to the Ghanaian footballers in Europe.
Business & Infrastructure: – There are problems with reliable electricity supply but projects are underway [by the Chinese] including thermal production. Just like Kenya, the hydropower plants face challenges with low water [Akasombo Dam]. Major hotels have diesel generators to alleviate this [good – as the weather is like Mombasa].
– Tema Oil Refinery has same (or worse) problems as Kenya's KPRL. Ghana Oil is listed on GSE, but majority owned by the Government. Total has a strong position in Ghana.
– Nigerian banks seem to dominate the skyline but the largest bank is Ghana Commercial Bank [GCB] (similar to Kenya Commercial Bank). The bank is listed, with the Government as a major shareholder, and GCB is now going through a massive transformation.
– They have had flyover roads for many years, and there is a wonderful cement/concrete road from Accra to Tema that was built during Nkrumah's days. It's a cheap toll road (about Kshs. 20/=) for a distance equivalent to Nairobi-Thika. The drainage systems are much better than Nairobi or Mombasa. Tema is their Thika – an industrial town, but it has a port too.
– Newspapers: There are very many [English] papers but they are poorly written & seem rather sensationalist. Not as good as the Kenyan papers in terms of analysis, etc.
– Business Opportunities? For everyone & everything… if they can compete with China, India, France, UK, etc!
Sight-seeing & Shopping: Oxford St, in Osu, is very popular and has a vibrant nightlife. Seems relatively safe vs Nairobi's CBD. There are other shopping areas but not much to buy that you can't get in Kenya. Shopping in Accra tends to be very pricey since almost everything is imported but buy real [unsweetened] Cocoa as it is grown in Ghana. Daily spend is about $50 per day without a hotel.
For sightseeing, there is the Nkrumah Circle/Gardens & such. The Presidential Palace is shaped like an Ashanti Stool of the Asantahene [built/donated by the Chinese?] It is visible from the Road & is an imposing structure which includes many government offices.
Shocker: Ghana imports milk! There is no 'fresh' milk but plenty of Italian & French UHT milk. Milo is also very popular, and is sold in small kiosks as well. Other imports include eggs.
Summary: In some ways, Ghana is the Kenya of West Africa but the 'socialism' attitude is still strong so businesses need to beware.