A guest post by @Kahenya who made a recent visit to Addis Ababa, the capital city of Ethiopia on a philanthropic mission. He also says that this blog is blocked from Ethiopia and that 1 birr is equivalent to about 5 Kenya shillings.
Getting There: When I arrived in Ethiopia, it took me about 30 minutes to clear at the airport, and here Kenyan citizens don't need a visa. However a Yellow fever certificate is mandatory and they will quarantine you for not having one.
Getting Around: Normal prices for a taxi can be anything between 100 Birr to 250, but the guesthouse I was staying in sent their shuttle to the airport (to pick me). Most locals use either a matatu (big taxi) or small taxis which act as a matatu, and sometimes they even contract taxis.
I use the matatu (big taxi) and contract taxis as do many locals, and I also hired a car with a driver to take out on the trip , since it worked out cheaper than a contract taxi and the guy waited on me.
I have never felt unsafe in Addis – whether it's day or night. It's out in the desert where things tend to go wrong. My advice is don't travel at night outside the city, especially into the desert, as that's time territory.
Language: With English and like about 2 words of Amharic, I am always able to find my way around. There is no local English newspaper but my favourite English magazine there is Whats'out Addis.
Communications: I have an Addis line, and I just plonked in the SIM-card and it worked. Mobile internet works, quite well now, unlike last year where I was barred from it. There are many Wi-fi hotspots, especially in the guest houses, hotels, and coffee shops, and they are usually free. I did not pay for internet this time round, but I believe it varies from .50c to 1 Birr per minute. Making local calls is easy, as are international calls, but I did not check the cost.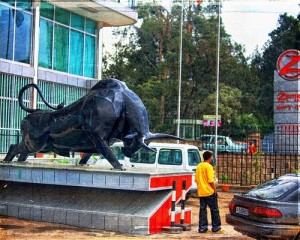 Hotel: I stayed in a guest house [La Source Guest House, located on Gabon Street In Meskel Square behind Adot-Tina Hotel] where usually I get a double room for about 400 birr, but this time round, I stayed in the penthouse and it was 600 birr a night. I have been staying in this guesthouse since the day they opened, in the early 2000's, so I get very preferential rates. I am still confused by this place almost 10 years later because though the place is quite clean, and located in a nice place, the price remains very affordable. It has always thrown me off, but as they say, take it with a smile. You can also make the booking online, and while I only confirmed my booking 3 hours before takeoff, I found everything ready & in order when I arrived.
Food & Bars: The local dish was injera (which I do not really like) but I had a lot of tibbs, bread, pizza, and (strangely) sandwiches.
St George Beer (my favourite there) was 35 bob (due to price caps) which made it very difficult to find – in fact, finding beer was a mission! I did not quite interact with strangers this time round, but mostly we talked about May Bread, African politics, Gaddafi some bullshit, girl talk etc.
Shopping & Sight-Seeing: I always go to Merkato, as do many tourists. The leather stuff in Addis is always a plus and as are the imported original Italian Suits (which I don't wear) that are priced that much better than in Nairobi. Most tourists buy local wear, artifacts etc.
Also go to Langano and Awassa to enjoy some lakeside action, and Gondar & Lalibella for history. But, ironically, I've never been to any of these places, but my opportunity will come one day.
Business & Infrastructure: – Electricity is not very reliable. There are major blackouts during the day and a lot of people have backup generators if they can afford it. The guest house I stayed at had a generator, so we were not in the dark for more than two minutes which was nice.
Opportunities?: Addis is ripe for construction and infrastructure development. If you can get in on that, or even technology work, then you are in a good place. Local product development that can be exported (I hear) is also a big hit, with the government helping with fulfillment.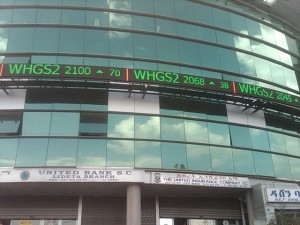 Shocker: – Last year, (the economy) was good, and there was a lot of activity, but now it seems to have slowed down. With the price cuts, and shortage of food items, like sugar, cereals, and cooking oil, the economy seemed to have reverted back to the old days.
– But the construction boom is insane, and property prices I noted are quite high. In short, property prices don't match up to the economy.