Legatum 2011 Awards: The 2011 series of the Africa Awards for Entrepreneurship was launched today in Nairobi. Kenya has produced more finalists and winners (including Virtual City, Colour Creations, Craft Silicon, AAR Health, Bio Deal Labs) in the short history of the awards, which have grown from 454 entries in 2007 to 2,700 in 2010.
For 2011, entries are open to companies in all African countries and are expecting over 5,000 entries from companies either directly at their AfricaAwards web site, or via nominations and awareness resulting from a press campaign across Africa (including ads on CNN).
The overall winner will get US$100,000 and five others will get $50,000 and to be eligible companies should have turnover of $1 – 15 million, a profitable track record of 2 years, at least 10 employees, not be subsidiaries of other companies, among other rules.
A committee will short-list these down 15 semi-finalists who will be visited and interviewed. 10 finalists will then be selected, and invited to Nairobi to make presentations make presentations as well as participate in a 1-day conference on entrepreneurship called Convergence Africa. The winners will then be announced at a gala dinner in Nairobi on December 8 2011.
Past (runner-up) winner John Waibochi of Virtual City spoke about the impact that the award had on his company. It gave them a reality check and a chance to audit themselves and their position in a competitive market, appreciate the skills and weakness they had as a company, and most important forced them to define their scope and package their story in a 7- minute pitch that has paid dividends in their subsequent participation with in the Africa Enterprise Challenge Fund and Nokia's Growth Economy Venture Challenge where they won $1 million. He added that participation in these awards had been an immeasurable marketing and PR coup for the company and given them access to $2-3 million of very affordable funds to grow.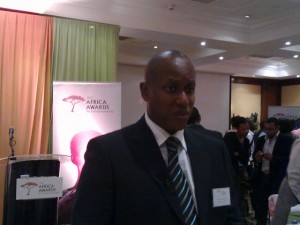 The AfricaAwards prize is unique in that funds are not given to the company, but instead go out to pay (supplier) for what the winners set out to achieve in their pitches. The funds enabled VirtualCity to invest in non-operational expenditure areas, such as performance management systems, financial systems, and training, that they would not have done out of their cash flow.
The Legatum Institute, the Omidyar Network, Kenya Airways (official airline) and Google are partners for the 2011 Awards which are now open and run till the submission deadline of August 24.
Pivot 25: It's about two weeks to the Pivot25 event, which still has a few tickets remaining for attendees. They will see twenty five companies competing for five prizes, with the winner in each of the five categories getting a cash prize of US$5,000. Here are the short-listed finalists in the categories of (i) Entertainment, Gaming & Utilities (ii) Business and Enterprise (iii) Government, Agriculture & Education (iv) Health (v) Mobile Payments & Commerce.
Edit
The Kenya Government's National Council of Science & Technology has;
(i) (20) Competitive Research Grants in the fields of geothermal, solar, wind, bio-energy, hydrogen, or fuel cells. Grants will be of Kshs. 15 million (~$175,000) over three years
(ii) 20 Science, Technology, and Innovation grants. These will be for Kshs. 1 million over 1 year for commercialization of prototypes.
(iii) (15) Post-Doctorate Research Grants in Pure & Applied Science, Mathematics, Engineering, and Technology. These will also be for Kshs. 1 million over 2 years.
The deadline is June 28 and application forms will be available at both the
NCST and ministry websites.
Ernst & Young: (E&Y) Entrepreneur Of The Year is open to applicants from Ethiopia, Kenya, Rwanda, Tanzania, Uganda in two categories (i) Master Entrepreneur category(companies that are 5 – 10 years old and have turnover of at least $50 million) and (ii) Emerging Entrepreneur category (companies that are 2 – 3 years old and have annual turnover of at least $5 million). D/L is 15 June 2011.
Google: Android Developer Challenge accepting applications in three categories (i) Entertainment / Media / Games (ii) Social Networking / Communication (iii) Productivity / Tools / Local / Geo. D/L is July 1.
Internews : Innovation Grants for New Media projects that range from $5,000 to $30,000 and open to local NGOs, software companies and/or mobile phone operators, local media outlets and individuals from various regions. D/L 30 June.
Tanzania: Entrepreneur of the Year. D/L is 30 July.
Standard Chartered: consumer banking graduate program for both graduate (those with masters degree) and fast track program (those with undergraduate degree)
FitzGerald prize for young African journalists. Details here . D/L July 31
Nestle Prize is still open till June 30. Last time, Kenya had the second highest number of entries after USA