The 13th edition of the Kenya Homes expo is going on at KICC Nairobi this weekend. Here's recap of that and other real estate on-goings. It seems larger than last year with more properties on display, along with energy, interior finishing, communication, insurance and media companies as well as several mortgage banks. Also some properties advertised last year were still on sale.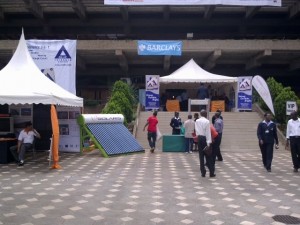 Expo: Some notable property developments included;
– Trident Park in Langata (behind Splash/Carnivore) 4 bedroom (4br) , all en-suite homes that cost Kshs 15.5 million [Kshs 15.5M or $193,000] (Trident Estates)
– Diamond Park in South C which are 4br maisonettes that cost Kshs 12M (Diamond Park)
– Tamarind Meadows are 3br maisonettes located in Mlolongo/Athi River with prices ranging from Kshs .6.5m – 9M (Tamarind Properties)
– The 3rd phase of Greenspan Housing estate of 3br maisonettes in Donholm/Umoja that cost Kshs 8.5M (brochure says that some houses sod in phase 1 have achieve rental of Kshs 45,000 [$560] per month) (Greenspan Housing)
– Residential plots sold by Ndatani Enterprises in Kitengela can range from Kshs 500,000 – 900,000 ($11,000)
– Le Mac is a planned 24 story tower complex with apartments, malls, shops, offices, bank, restaurant, gym on Waiyaki Way, Westlands that was launched by the vice president a few weeks ago. Offices and showroom will cost 15,500 per square foot , while apartments that will include studios, 1, 2, 3 and 4 bedrooms will cost 16,500 per square foot – translating to Kshs 12.6M for 1br to Kshs 56M ($700,000) for a 4br duplex. (Mark Properties)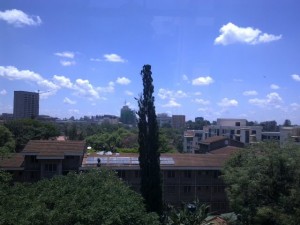 Financiers: at the Expo were the usual banks present including Housing Finance, Barclays, KCB, and Standard Chartered.
– Barclays loans start at 12% up to 20 years and 90% of home cost, or 70% of construction costs and they buy mortgages finance by other banks. A Kshs 10M loan taken over 10 years has repayment of Kshs 143,413, and over 20 years has monthly repayments of 110,039
EDITCBA: Mortgages are payable over 25 years, and (they say) you can accelerate and pay off an entire home loan without being penalized.
– KCB has mortgages up to 25 years and rates are 13.75% and finance 90% of mortgages for salaries people homes in urban areas, 70% for plots, and 85% for estate development. A Kshs 10M loan taken over 10 years has monthly repayments of 152,274, and over 20 years attracts a monthly payment of 120, 737
– Housing Finance had their Makao Homes which are pre-designed homes they can build for anyone with a piece of land and range from a 2br bungalow that costs 1 million ($12,500)(ideal for 1/16 acre) to 4br maisonettes ideal for ¼ or ½ acre that cost 13.3 million ($166,000). A Kshs 10M loan attracts repayments of 155,266 over 20 year and 124,352 over 20 years.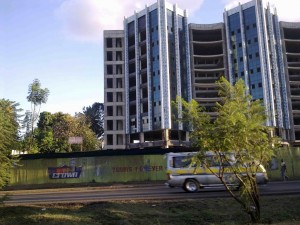 – Other finance from Houising Finance, includes plot purchase (70%), for investment groups (70%), for commercial office space/shops development (65%), as well as finance for incomplete or stalled projects.
They were joined by newcomers including;
– National Bank of Kenya
– CFC Stanbic who last week launched a 100% mortgage facility.
– I&M Bank – pay lesser amounts in initial years and higher amount in later years as your income grows (you think?), all loans have free credit card and free fire insurance. Loans are at 12, 14 and 16% and range from Kshs 2M -30M to finance up to 80% of property price with a maximum of 15 years. The brochure also indicates all the typical home closing costs – e.g. a Kshs 10M mortgage will attract valuation fee if 10,000, 1% on disbursement (100,000), processing of 0.5% (50,000), legal fee of 1% (100,000) for a total of about 3% (home buyers are advised to budget 5%)
Other: – The Sameer Business Park has started leasing this week; it initially looked like white elephant its now available through property agents Knight Frank .
Via @azthedance – This article by Brendan Barron titled Arrest this Development? points to some disparities in the sector such as;
– The country's average wage is somewhere around $4,500 a year, but the average mortgage was more than 12 times that, at $56,000.
– Nairobi currently has no urban plan
– There's also no real Building Code to which technicians can refer to ensure new homes meet standards. There are, simply, no enforced standards.
Edit: Here's a nice series of articles in the Business Daily by analyst and columnist Carol Musyoka, first on Kenyans obsession with owning property and a follow up on the
investment risk of owning property, which has this paragraph.
Given where today's interest rates are at say 15 per cent, an average middle income house costing Sh10 million, will require a monthly mortgage payment of approximately Kshs126,000 after the buyer puts down a deposit of Sh1 million or 10 per cent on the 15 year mortgage. This is not an amount that is easily payable by the average Kenyan worker and requires a great amount of sacrifice on the part of the buyer, especially where the rent for a similar house would be about Sh40,000 or a third of the mortgage payment.
The fact is that buying your own home is really not supposed to be an investment, rather it is a method of providing future security for yourself by having home ownership at the end of the mortgage period.