Homes Expo: There was also another real estate expo at Sarit Centre last week – and some of the price ranges observed included
– Two bedroom apartments in kahawa are Kshs 5 – 6M
– 3 bedroom in kileleshwa/kilimani Kshs 16 – 17M ($200,000)
– 3 br Athi River are Kshs 5 – 7 million ($70,000 – $90,000)
Other property prices of interest seen there, and also away from the expo include
– Tatu City and other ongoing developments like Migaa and Thika Greens which are modern estate communities that encompass shopping malls, schools, community centres, club house, sporting facilities/golf course, medical centres etc.
– From Regent – twelve (12) units of 2-br flats in Umoja for Kshs 16 million ($200,000)
– New office space in the Nairobi area ranges from Kshs 10,000 to 15,000 per square foot – and at Morningside it's 12,000 per sq foot ($150/sq.ft)
– In the newspapers was a 9-storey building for sale, which is located in the central business district of Nairobi with 99 year lease, is fully leased, and brings in annual income of Kshs 20 million ($250,000)
– From Kenya Valuers are some of the priciest real estate prices seen including; an acre of land in Kilimani for sale at Kshs 180M ($2.25 million) and another at Kshs 225M ($2.8 million), a 4=br house in Muthaiga for Kshs 150M, a 6-Br in Windsor for Kshs 180M, and a 5-br in Runda that rents for $7k/month.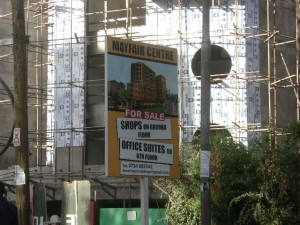 Mortgage report: Was released by the World bank and Kenya's Central Bank – and it showed that KCB and Housing Finance are the leading banks in the sector with about 4,000 mortgages worth Kshs. 17 billion ($212 million) each . Barclays have 742, CBA 238, Prime 651 and First Community with 157 – which presumably offers only sharia complaint products. Mortgages rates average at 14% up from 12.5% in 2006 – and there were 6,000 new mortgages in 2009 up from 1200 in 2006.
Developers Club: KCB Kenya's largest bank and leading mortgage company has a developers club for local developers and held a session this week in Nairobi.
Some Highlights
– Mumo Musuva, an architect with Planning Systems talked about this being a very exciting time for Nairobi, currently ranked No. 102 in the large cities of the world with a population of 4 million and which is projected to become No. 73 with a population of 8 million – and with 60% of the country population below the age of 30.
– He's also lead developer with Tatu City and they are going to use digital management & GIS, detect when someone leaves a tap open, cut off the utilities of tenant who don't pay, collect rates and deploy that to infrastructure etc.
– He lamented the low quality of most real estate buildings & projects in Nairobi as developers have been chasing quick returns (ROI) – these will change to world standards including environmental designs as the requirements of working with large tenants are evolving.
– The definition of real estate is changing from owing a house or building to it being seen as a commodity – and this is evidenced with the current investment for speculative purposes and eventual roll-out of REIT's.
– There are massive opportunities for developers in Rwanda, Uganda, south Sudan which KCB can finance.
– They also launched a new KCB property guide will feature developers. The bank also expanded its mortgage offerings (available at their 168 branches), to loans for Kenyans in the Diaspora at 7% in foreign currency as well plot & purchase construction loan – unlike with previous arrangement where one had to pay off a plot loan before commencing construction
– The developers forum which has 300 arranges fact finding trips abroad to China, and possibly South Africa, & Brazil – and Joe Mungai of Tamarind Properties advised any developers to take such trips before embarking on any large projects to learn concepts like construction for low end housing, waste treatment & gated communities.
REIT's: The Capital Market's Authority (CMA) is undertaking a review of the Real Estate Investment Trust (REIT regulations ) & rules that formulated they in 2009. They will get feedback from developers and real estate institutions on product demand, tax rules. D/L is March 25 2011