Capital Market Awards: These took place late in January 2011 and were organized by Think Business who also organize awards for the banking and insurance industry. The awards gained notoriety when they started a few years ago when the regulator capital markets authority (CMA Kenya) complained about their implied association /endorsement as a result of the name.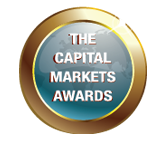 Some of the winners this year included;
Custodian of the year: KCB
Bond deal of the year: Housing Finance
Stockbroker of the year: Genghis Capital
Fund manager of the year: Genesis Kenya
Legal transaction advisors: Hamilton Harrison & Matthews
Unit trust: British American (which was launched 5 years ago)
Research team: Kestrel capital
Lead transaction advisor: Dyer & Blair
Investment bank of the year: Dyer & Blair
D & B director Jimnah Mbaru mentioned that they had used Hamilton Harris & Matthew in most of their deals, and had been represented in several deals including NIC (Uganda), Bralirwa (Rwanda), CRDB (Tanzania) and the largest was KPLC in Kenya which was a complex deal. He added that its not just technical know-how that wins them deals (everyone had talented transaction employees) but it's a more about relationship management and understanding people, politics, social economic (and that many runners up had recruited staff from D&B). But he also spent 5 minutes telling what looked like it was going to be a very funny accounting or golf joke, only that it turned out to be one everyone knows as it ends with a lawyer answering 'how much do you want 2 + 2 to add up to?'
The CMA awards were mostly deserved, but there are a few glitches that were evident:
– The organizers insisting on presenting awards (best performing NSE company won by British American Tobacco) that were not voted or verified by the auditors (who stated this before the award was given)
– Some categories listed had no entries (IPO of year, Chairman of year, PR transaction advisor), or two winners in same category (CEO of the year shared by Nasim Devji and Martin Oduor Otieno) and some prizes winners not showing up.
Other Awards up for grabs
– Poptech: Nominate a Poptech Social Innovation Fellow
– Property Awards: Organized by Property Expo Kenya, these take place on February 24 at Sarit centre and will award property developer of the year, real estate agency of the year, mortgage company of the year and real estate journalist of the year
Other Media Awards include
– Diageo Africa Business Reporting Awards
– East African media awards by East Africa Business Council