The spat this week between the Kenya Government and various businesses about demolition of buildings along Mombasa road is not a surprise for anyone who was at the 2010 TEDxNairobi where Architectural Engineer Eric Kigada of Planning Systems Services spoke of the lack of a valid master plan for the City of Nairobi and the resultant chaos for building owners and his fellow professionals.

He said Nairobi had master plans drawn in 1948 and 1973, but this last one expired in 2000 and it was a city that would expand toward Thika side of town. Currently, the government, planners, and landowners operate in a vacuum with different departments and ministries having different maps and plans for road expansion and it's not clear what routes they will follow or how large actual roads will be constructed. Government officers who won't commit approval in writing and there are unclear plans such as one extending the growth of Nairobi up to Namanga.
He advocates for digital maps (which exist) to be availed and used, transparency in the planning process, and most important a master plan that will be shared within the industry. He also spoke about his company's other work such as revitalizing green spaces along the three Nairobi rivers and a proposal to utilize existing abandoned quarries to supply enough water for the Eastern half of Nairobi, but which the government authorities are yet to commit to.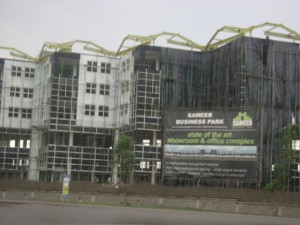 Will the buildings, include the new Sameer Business Park and new Standard Newspapers Headquarters be brought down to expand the road? The Kenya Property Developers Association (KPDA) in a statement today called for urgent development and implementation of the comprehensive master plan and a defined compensation plan for land and building owners if the Government goes ahead with demolitions to make way for necessary infrastructure improvements.