Legatum Africa Awards: Three Kenyan companies – Biodeal Laboratories (generic drug manufacturer), Craft Silicon (financial software developer) and Mellech Engineering (construction & engineering), have been selected as finalists in 2010 Africa Awards for entrepreneurship.
They are competing for $350,000 in fund prizes, with a grand prize of US$ 100,000 and five other prizes of US$ 50,000 each. The other finalists in the top 10 are Malcom-Ezindaleni Hydraulics (SA) NTR Technology (Botswana), Planbuild (Uganda) Sigma Electric ( Ethiopia) Steel & Tube Industries (Uganda), Tutuka Software ( SA) and Wilkins Engineering (Ghana) – who were also shortlisted from more than 2,700 entries.
Legatum, a privately owned investment group and Omidyar Network, a philanthropic investment firm, organized the awards, who's winners will be announced on December 6 in Nairobi.
Agriculture Equity: The African Agriculture Fund, a private equity fund closed on US$ 135 million of funding in November 2010. The funds will be invested in the agriculture value chain from primary production to processing at $20 million per portfolio company.
The Fund also has a dedicated SME sub-fund and a technical assistance facility of 10 million euros, to support out grower schemes in large companies and business development services in SMEs.
Transparency Equity: Late in October, Omidyar and Hivos created the Africa Transparency and Technology Initiative (ATTI) – a fund that will support technology-driven initiatives that give citizens the tools to hold their governments to account. Omidyar Network will invest up to $2 million and Hivos will administer the fund.
Diaspora Fund: The Enkare Innovators Fund was launched and is seeking US$850 Million from Diaspora for investments in Eastern, Southern & Northern Africa with early focus on Kenya, Tunisia, Egypt and South Africa. This is via a private placement that will run from January to July 2011 and is promoted by Cauave Deaa Et Al Capital Partners
Silicon Valley Visits: The Kenya ICT Board will host a team from I/O ventures, comprising entrepreneurs & founders will from Silicon Valley who will visit Nairobi on December 14 & 15 and who are seeking young ICT entrepreneurs to mentor.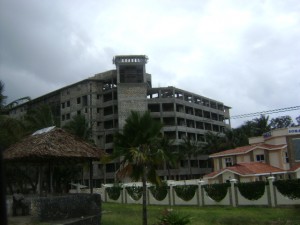 Mombasa housing development
Impact Investing: Impact Investments are a new asset class as per a report being launched this week in Nairobi, London and New York – by the Rockefeller Foundation, Global impact investing network, and J P Morgan.
These refer to investments that have an intended purpose of positive social or environmental good besides a financial return – and probably what Acumen Fund have been referring to as patient capital.
– Impact Investments are primarily debt or equity, and are investments not philanthropy investments
– They studied 1,100 investments and found that about 500 were less than $500,000, and only 35 were more than $10 million
– Impact investments are founds in sectors like agriculture, water, housing, education, health, energy and financial services (micro-finance is the most mature sub-sector)
– There are now metrics, tools, ratings, conferences – all devoted to impact investing and how to measure non-financial impact; One benchmark called IRIS (based on IFRS) and others are Pulse and GIIRS . Currently impact investments are measured primarily by investors own proprietary systems, or by a mix some investor goals such as job creation, asset accumulation, or energy efficiency
– The report has a robust outlook for the sector and concludes that there are potential impact investing requirements over the next 10 years of between $400 billion and $1 trillion, with potential profit of $183 billion to $667 billion, and with the bulk of these to be found in the urban housing sector.
Further Reading
Invent for Mobile: CGAP article which asks how viable companies in mobile health and mobile money can attract VC funding and interest.
Large Private Equity: FT article – about private equity in Africa by Andrea Bohnstedt (@andreabohnstedt), the publisher of Ratio Magazine