Comparing to last year's Top 10 list.
I&M Bank: Sits, at number eleven, for the year, just outside the top 10, but made more profit than two of the top banks . I&M had an exciting year, with a November rights issue targeting to raise Kshs 2.4 billion ($30 million); they also launched an e-commerce platform, bought stakes in banks in Mauritius and Tanzania and got investment funding from Proparco & DEG.
10. Diamond Trust (2009 rank 10): Assets of Kshs 58.2 billion ($727 million) and nine month profits of Kshs 2.3 billion ($29 million) – had growth across the board of 30% compared to a year ago and with a good income outlook and very low NPA. Expanding to Burundi while other banks have headed to Rwanda, and Chairman stepped down to take up similar post at the revived Air Uganda.
9. Citibank Kenya (2009: 7): Assets of 63.9 billion ($798 million) and nine month profits of 2.15 billion ($27 million). A quiet year for the bank but ramped up in Q3 this year and that will impact year-end numbers, which were flat before that. MD Ade Ayeyemi moved on to other bank operations, and the bank has been unable to shake off local stockbroker allegations that they are holding Safaricom IPO refunds from investors since 2008
8. Commercial Bank of Africa (2009: 9): Assets of 65 billion ($813 million) and nine-month profits of 1.9 billion ($23.7 million) . A quiet year for the bank which has grown by about 40% since a year ago, but which will soon have to raise compliance capital from its shareholders.
7. National Bank of Kenya (2009: 8): Assets of 67.4 billion ($842 million) and nine month profits of 1.9 billion ($24.8 million). And has ramped up lending including mortgages and seen improved profits. The replacement of long serving CEO is up in the air are Government plans to privatize the bank with plans shifting toward private investor as opposed to offering more shares to the public
6. CFC-Stanbic (2009: 6): Assets of Kshs 104 billion ($1.3 billion) and nine month profits of 1.5 billion ($18.8 million). The sleeping giant created by the merger of two mid size banks is still treading, and though with improved profit, they are still the lowest of the top 10 banks.
5. Equity Bank(2009: 5): Assets of 129 billion ($1.61 billion) and profits of 6.8 billion ($84 million) . For the second year slightly reduced growth to 40 – 50% not the 100% of years past. The bank had a shift in direction towards an agency branch model using mobile phones to reach its 5 million plus customers, and after the rapid growth of m-kesho ( a partnership with Safaricom,), they have in the last two months also signed on with Orange and Essar, tying up 3 of the 4 Telco's with mobile money.
Diversification has been a mixed bag, with good results from Sudan and M-kesho, but not so (yet) with Uganda, investment banking, and Housing Finance, which while initially unwelcome it appears that HF shareholders would now welcome a merger. Still, this could be the year they clinch the highest profit crown in the Kenya banking sector.
4. Standard Chartered (2009: 3): Assets of 134.6 billion ($1.68 billion) and profits of Kshs 6.1 billion ($77 million) in nine months. Had an over-subscribed rights issue and took over the custody business that Barclays sold in Africa. They make good money from corporate loans and from government securities – they have almost as much paper ($650 million) as they do in customer loans.
3. Cooperative Bank ( 2009: 4): Assets of 141.1 billion ($1.76 billion) and nine-month profits of 4.3 billion ($53.7 million) . overall growth of ~40% with group assets about the same, and diversification has included buying stake in CIC insurance, stock broking and have talked about going into South Sudan and other East Africa countries
2. Barclays(2009: 1): Assets of 177 billion (2.2 billion), with nine month profit of 7 billion ($87 million). This big bank has nowhere to go, with growth of 5% from a year ago, can they buy up some smaller banks? They shed their Africa custody business to standard chartered and got into an m-pesa banking partnership belatedly after pushing their own mobile money platform for two years.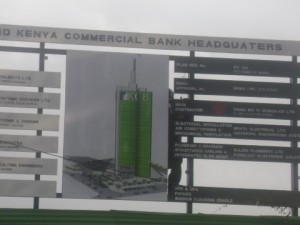 Site of planned KCB new HQ building, opp Equity Bank Centre, Upper Hill Nairobi
1 KCB (2009: 2): Assets of Kshs 218.2 billion ($2.72 billion) and nine month profit of 6.39 billion ($80 million). Had a rights issue earlier in the year, that raised $156 million and they plan to put up a new headquarters in upper hill. But with total group assets of 244 billion, the bank was third in profit behind Barclays and Equity after Q3.