I've been fortunate to be a tester for Nokia C3 in Kenya. It's a phone I've been waiting to buy for almost three months, and while waiting, the local Nokia team lent me one to try out before the market launch. Prior to that, I had an Nokia E72 loaner, which highlighted the shortcomings of the C3 in a roundabout way, and these include:
– Not 3G enabled, so E72 functions like watching YouTube videos are out.
– Not a true smart phone, no multi-tasking like with the E72.
Also at the Tuesday media launch, one reporter pointed out that the camera was 2 mega- pixels only, but the Nokia Manager pointed out that their research showed that people wanted to take camera phone pics that they could easily share, but that large high-res photos takes a long time to upload and have to reduce the size to share across platforms.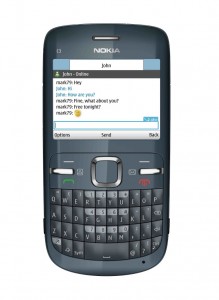 The phone is a compromise of sorts, an affordable smartphone, with office tools. heavy on social media, connectivity, networking, and data features.
Features I like (so far)
– WLAN so can browse on Wi-Fi at coffee shops or office hotspots
– You can set up up to 10 mail accounts, with new e-mails push updates right on the home screen, for response/action (can also sync with office e-mail Nokia and Safaricom)
– It also has a community page for Facebook, Twitter updates appear on the home screen
– Pictures taken on the camera, upload to Facebook in a snap. Also unlike with E72 which had too many folders, picture are easier to find and organize, and because of their size, easier to e-mail
– The home screen with all these updates (e-mail, twitter) shuts down at night so brings no midnight disturbances
– Expandable memory (yet to try it out)
– More C3 features
C3 smash: The phone was officially unveiled on Wednesday in Kenya by Nokia and Safaricom, who are both market leaders in Kenya. As promised, it's a sleek nifty smartphone, with its QWERTY keyboard which makes it look like a much more expensive phone (E72) or a blackberry, but costs Kshs 10,000 ($123)! It is being sold in Kenya exclusively at Safaricom stores and comes with 40MB free data from Safaricom with every C3 purchase.
This morning there were brochures being handed out on the street and promotions on the KISS FM Group for a happy hour during which the phone would be sold for one hour at a price of just Kshs 5,000. This brought out crowds of people seeking the Nokia C3, with some unfortunate effects, as captured by @wanjiku on twitter.

– Huge crowd gathered @safaricomltd sarit for #NokiaC3 looks like a political rally via
– It's wrong; 4 @safaricomltd @dorothyooko you should see the fight at Sarit 4 #NokiaC3 its bad; looks like people fighting for food; extend offer about 4 hours
-How about extending this offer 4 #NokiaC3? It's wrong to advertize so much if u can't meet demand @dorothyooko did u expect it to b this much?
-@Ngendo87 u should see the way men & women are squeezing on the queue @sarit its chaos, guards throwing their weight… #ThatIsAll
-Sarit management has complained that the crowd @safaricomltd is intimidating the precious clients who spend lots of money; PA system; offer over
– Scenes from sarit with buyers and guards fighting over #nokiac3 http://twitpic.com/2t0tz0
– Angry buyers storm Safcom entrance. The shop was forced 2 close doors, switch off lights http://twitpic.com/2t0u8k
– Police called to calm crowd: sarit manager was there asking if crowd is gone. http://twitpic.com/2t0v5w
– some sarit pictures
EDIT: – Video from the C3 launch in Indonesia (June 2010) with round the block queues