Zain/Bharti shake market: On August 18, Zain Kenya announced new unprecedented low rates for voice calls and SMS in a new tariff war. The new rates for calls of Kshs 3/=(~$0.04) per minute and for SMS of Kshs 1/=(~$0.01), which apply across all networks and are available to all Zain customers, easily trumps their main competitor, and market leader, Safaricom whose rates hover around Kshs 8 for a phone call and Kshs 3.50 for an SMS (and 12/= and 5/= to other networks for the same).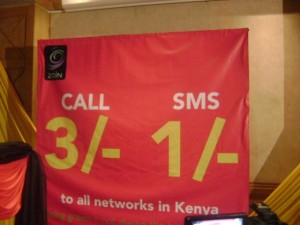 True cheap rates: The new rates have been well received with very popular comments online and a rush by consumers to obtain Zain lines or re-activate old ones. CEO Rene Meza called this a new long dark journey to market dominance [i.e. from 10% now] and one they will tackle aggressively for the long term. But is it sustainable? The last time Zain engaged in a price war, they ended in a bloody loss, with Zain gaining customers but not market share and $90 million in the red.
Airtel Strategy : However Zain Kenya is no more. The push comes from new owners Bharti Airtel of India who completed their takeover of the Zain Africa Group last month and will rebrand the company (in Kenya) by October 2010. They have also set out to re-position the local telecommunications sector in tandem with Essar and France Telecom by lobbying the government for other changes to level the playing field in a market they believe is unfairly dominated by Safaricom and which denies Kenyans true freedom of choice.
At the official launch in July, Airtel executives the emphasized some of their strategies including:
– They are rural focused and will build a rural brand through farming related promotions and CSR activities
– Be a low cost operators; employ low skilled sales force
– Lobby for number portability
– Push for lower interconnection rates which will lead to affordable products
– Lobby for infrastructure sharing i.e. no need to have 5 cell phone towers in a small town (all incurring electricity, security, cement, other charges) town when 1 will do with all Telco's sharing transmission and fibre
– Work with ecosystem partners, like HP and Eriksson, and have a BPO call centre
Will the government deliver on low connection fees, number portability and infrastructure sharing? At the launch Meza mentioned that the Communications Commission of Kenya (CCK) had lowered the interconnection tariff from about 4 to 2 shillings effective September 2010.
Short-term losses: Meza said they plan to grow revenue and subscribers, and margins and profits will come later from operating a lower cost structure. And in a back stab at the previous owners (and perhaps minority shareholders), he said for the first time in eight years they have shareholders with the right mind-set to allow them to take opportunities in the market, increase rural penetration and utilise the right technology – by investing Kshs 24 billion (~$296 million) in the next 18 months on rural cell phone sites, revamping their zap money transfer systems, increasing their outlets & distribution network, expanding their 2G network, and rolling out a 3G network by the end of the year (since the license fee was reduced this year, they will be able to cover more parts of Kenya than just Nairobi and Mombasa)
Improve on Marketing: Marketing has always been a weak point at Zain, who keep throwing out too many confusing promotions one after another after another. The Wednesday Nation had a full-page ad for the new Zain (3/= and 1/=) rates and on the adjacent page was a small story touting a tariff for Zain 'Club 20' subscribers who could now get free calls and unlimited SMS from 11pm to 6 a.m. within the Zain network only! And all this comes a month after they had launched anotherrevolutionarypromotion. Hopefully this will hopefully change with the recent marketing executive appointments and re-focused brand and strategy.
EDIT – Other Developments
– Zain accuses Safaricom of sabotaging its new price offer
– Safaricom reassures Zain over inter-connect capacity, and says their concerns are premature.
– CEO's e-mail exchange between Rene Meza (Zain) and Michael Joseph (Safaricom)
– Safaricom launches Masaa tariff with prices of Kshs 2-4 for Safaricom calls and Kshs 3-5 to other networks.
– Orange (France Telecom/Telkom Kenya) make their low cost pitch with Kshs 2 and Kshs 4 for on and off net calls respectively, with free on net calls from 10 AM to 5 PM for Kshs 100 per month ($1.25)