($1 = ~Kshs 80
Six years after the first, and two years after the second (reloaded), comes a third KCB shareholder rights issue (a revolution).
KCB (aka Kenya Commercial Bank) is Kenya's largest bank by assets [Kshs 221 billion (~$2.75 billion)] and has 210 branches in Kenya, Rwanda, South Sudan, Tanzania and Uganda. Separately, a Central Bank of Kenya audit report for 2009 shows it has the 3rd largest number of deposit customers at 751,852, behind equity 4 million and co-op 970,000 and followed by Barclays, 748k and Family 574k.
In 2004 and 2008 they surpassed their fund-raising targets and raised 2.3 billion and 5.2 billion respectively. This time they are aiming for a much larger amount Kshs 15 billion (~$188 million), by offering 887 million new shares to their shareholders at Kshs 17 ($0.22) per share, in the ratio of 2 new ones for every 5 held – adding to the issued 2.217 billion shares and representing a 40% increase.
The issue is not underwritten and is subject to a minimum subscription level of 50% i.e. must raise at least 7.5 billion. The shares will also be available to other east African investors in Uganda, Tanzania, and Rwanda. Rights also provided a way for shareholders to buy shares for close relatives by way of private placements.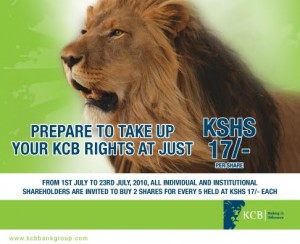 The prospectus (IM) (PDF) was not mass mailed this time, but is available only from their web site, stockbroker, and branches of the bank.
comparisons to the last rights issue in 2008
Then (June '08) ; Now (July '10)
– Target 5.2 billion ; 15.8 billion (~$190 million)
– Focus: then – East African expansion, Bank ESOP ; Now – grow mortgage business and other growth (if funds are raised, 13 billion will be used in Kenya, 1.5b in Uganda, 894m in Tanzania , 473m in Rwanda) Negative funds marked for Sudan and elsewhere the IM notes that KCB with 5 branches has 34% of the Sudan market by assets
– New shares 222.1 million ; now 800 million
– Price : then – 25/= ; now – Kshs 17/=
– Allocation: then : 1 for 9 : now 2 for 5
– Market cap: then – Kshs 66.4 billion, now – Kshs 47.6 billion?
– Profit after tax then – 2007 2.9 billion ; Now – 2009 – 4.5 billion
– Result: then oversubscribed; now, may fall short
Budgeted cost of the offer: 2008 – 220 million : 2010 – Kshs 446 million ($5.5 million)
What costs more? : CMA approval fees – up 360% (kshs 37.5m), Transaction advisor – up 288% (31.5 million), PR/advertising – up 300% (69.4 m), Legal advisor up 190% (2.2 million) NSE fees up 10% (500,000)
What costs less? Reporting accountant (3.8m is unchanged from last time so virtually a decrease), and no figure given for printing costs which should be substantially lower than last time as they are not printing & mailing a copy the 116-page prospectus to each of the 169,076 shareholders
Market players: The lead sponsoring stockbroker is Standard Investment Bank and they are also the lead transaction advisers along with KPMG. In Kenya, there are 18 NSE members selling the shares [including discount securities under statutory management, and reliable securities (in which Old Mutual acquired a 70% stake)] as well as 6 commercial banks with large branch networks – Stanchart, Equity, National, Co-op, Barclays and KCB itself)
The rights issues is also open to foreign investors who are East African nationals who can buy shares through;
– In Tanzania: 6 investment banks (including Core, Orbit, Rasilmali, Solomon, Vertex)
– In Uganda: 20 investment advisers and stockbrokers (include crane, MBEA, African alliance, Crested, DFCU, Stanbic, Devere)
– In Rwanda: 8 investment banks (including MBEA, Dallas, Continental, and a trio of Kenyan offshoots – (dyer & Blair Rwanda, kingdom, Faida)
Shareholders: Anchor shareholders – then and now :
Government of Kenya (26%:23%), NSSF (7.8%:5.23%), ICDCI (3.5%:3.36%), Sunil shah, (2.33%:2.33%) staff pension fund (2.32%, now out?). In terms of directors, no change except that the IM shows that Group CEO sold his entire individual shareholding between 12/09 and 7/10 while another has decreased hers by about 70% (none have
At the record date, KCB had 169,076 shareholders who included other East Africans (12 institutions, 198 individuals) and foreigners (55 institutions, 438 individuals)
Calendar: Record date 18/6, rights start trading 1/7, last day trade rights 12/7, last date to pay for rights 23/7, new share trade 19/8,
Verdict: The rights started trading at over 1 shilling, but in the span of a week have dipped by 50% to about 0.5 shillings per share. Stockbrokers say that demand is good for the shares but that they anticipate the Government and one other top shareholder (one on CNBC said it would be the NSSF) are foregoing the offer and selling their rights before the offer lapses leading to the dip in the rights price.
Investment analyst have variously complained about the massive amount of shares being listed, dilution of existing shareholders, and the large amount of money being raised by the bank, which they doubt has the capacity to utilize the infusion efficiently. One analyst from Renaissance Capital said they had downgraded KCB when the rights issue was announced.