Safaricom announced in a statement that their long-serving CEO Michael Joseph will step down in November from the helm of the company. He has been CEO as long as this blog has been around and a search through archives finds these posts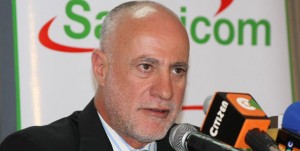 image from the business daily
Long before, the IPO there was a shareholder tug of war evict him in favour of a Kenyan CEO.

In 2006 he gave a

talk

at the British Council on how the company which started with 5 employees and 17,000 customers, overhauled Celtel and came to be one of the largest revenue earners and taxpayers in Kenya. The talk was given before the IPO and before they launch M-Pesa and had numerous insightful tales, as he was the only spokesperson for the company and he also touched on low education standards, wrong government statistics, the problems at kencell/celtel/zain/ and political battles to succeed his seat.

The first post IPO

report

shows that he has 2.35 million shares in the company, same as the CFO so probably a contractual bonus.

He has said that post-retirement that he will contemplate becoming a Kenyan citizen. He (and the company) have received many

accolades

both local and international. Form government, the private sector and he is noted for his CSR efforts especially in the conservation of wildlife and forests.

For many years, he has been

Kenya's Steve Jobs

, a man so closely inter-wined with their brand and with a medical history, but whose company had not defined a succession plan until this week. New reports indicate the new CEO will work with MJ for two months from September, and that he will continue on in advisory role even after he leaves the CEO office.
Other Blogs
– Kainvestor asks if he was a corporate legend?
– Ratio Magazine on how the retirement may shake up the local mobile & telecom sector
– Interviews with the CEO
EDIT July 29, 2022.