A few years ago Kenyan banks rolled out a variety of flat fee accounts; this was at a time that there was an outrage in the country over bank charges pumping up bank super-profits.
The flat accounts offered a range of services at one flat fee. NIC was the first with MOVE, then Diamond Trust, Standard Chartered with Diva (for Women) and later X Account (for Yuppies), while Barclays had Bouquet accounts that cost Kshs 490 ($6.5), 590 and 690 ($9.2) per month.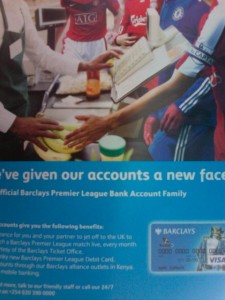 They are few now left. Diamond Trust took their fee lower, and NIC went higher to ease out the flat tariff. Now Barclays have joined suit; for a while, they may have felt they were being taken for a ride by their customers (perhaps business owners who funneled large volumes of transactions through the flat fee account, and a few months ago) they tried to disguise an increase in the minimum fee flat fee from 490 to 590, by claiming that they had added 'free' mobile banking.
One problem with flat fee accounts for some sustomer who underutilized the accounts (like myself) was that they were limiting in that you paid much more than you used and you could not get additional services without paying extra; flat fee accounts could not be altered, e.g. to get a cheque book or set up a standing order you had to move to a higher priced account
Last weekend Barclays did a system upgrade and one end product seems to be a removal of the flat fee monthly accounts in exchange for a more conventional transactional charge for each over the counter or ATM transaction. The new accounts are called bank account (reduced ATM fees), bank account plus (free banking if over 50,000 [$625] in account), business flexi (cheque book) and business bouquet (first 20 transactions free). They also have tie-in discounts with Tamasha/buffet Park. Nike shop, Nairobi sports house and Sherlock's den