There was a small advert in the Nation this week for a private placement to raise Kshs 600 million ($7.5 million) as investments in the public service vehicle (PSV) transport business.
The promoters, PSV Investments, say they have already invested in PSV's, commonly known as matatu's, through transport companies, savings & credit societies (SACCO's), and individual owners. They are selling 6 million shares at 100 shillings each, with a minimum investment of 5,000 (~$62) for individuals and 100,000 (~$1,250) for institutions, and the Vice Chairman is Dickson Mbugua who's often on TV defending the Matatu industry as an official and a spokesman. It opened on May 17 and closes on July 3.
The PSV business is one which has had difficulty getting organized investments because if the poor reputation of the business. This is because of the reckless driving habits of drivers, gangs involved in management, insurance claims & losses.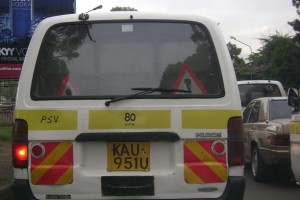 (this matatu ran me off the road this morning, and I had to drive on the pavement to avoid an accident)
Nevertheless, matatu owners are able to obtain loans from some banks but who limit their exposure by financing less than they would for an individual e.g. where a bank may finance 80% or higher of a vehicle cost, for a matatu that's only about 50% with the owner paying the difference. In some cases they also shorten the repayment cycle to weekly installments, instead of monthly, to prevent diversion mismanagement of cash as a matatu generates (and spends) most of is cash on a daily basis.
SACCO's have a reputation for running the best matatu businesses, and listed transport company, Express Kenya, has also invested in the PSV business via KBS and Citi Hoppa, as detailed at last year's invested in PSV business, as discussed at their 2009 AGM.
Private placements are riskier in terms of entry and exit, and I'm dealing with two unique placement cases now: one with an investor who wants to exit from a minority shareholding, but at a greater price than the majority shareholder will pay and another placement in which the promoters have been incommunicado for six months after urging investors to buy into a company. It's not clear if the CMA is aware of this or if there is a transaction advisor or prospectus for the company.