Excerpts from a few minutes spent at the annual general meeting of KCB – Kenya's largest bank that was held on Friday May 7 at KICC
Summary
Good: they have styled up – gave packed lunches, had registration points spaced out so no crowds/ queues squeezing and interrupting the meeting
Bad; timing is an issue, it was one hour before the auditor finished and the Chairman opened floor to questions – ok they may have a large crowd (5,093 attended the last AGM), but still!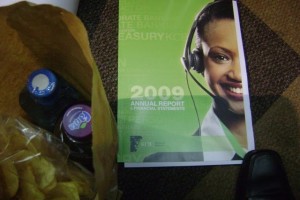 Shareholder Q&A
Annual report was not circulated: copies were given to shareholders as they walked in so some said they had reviewed them. Why even print glossy copies which will be thrown away after AGM (print on plain paper instead)? Why not avail copies at bank branches nationwide?
CEO replied Last year shareholders approved this new measure – and the bank will no longer be sending out annual reports to its 170,000 shareholders – an exercise that was costing them about 30 million (~$390,000) each year. They printed fewer copies this year, but will look at other ways to get it out faster such as e-mail [note: it's been available at their site for about a month, but few shareholders went and downloaded PDF]
Raise Capital: this happened later with the shareholder approval to raise about Kshs 15 billion (~$200 million) – CEO said after growing at about 20-30% p.a. they needed more capital as a regulatory requirement to continue to take in more deposits and lend out money. Their goal is to raise 21 billion over next few years and balance may be from bond.
Are subsidiaries profitable? (information missing from accounts)? CEO pointed out the information was in the account notes, but said many subsidiaries were in infancy after massive investment in people, technology, marketing and were still not profitable, asked for more time for them to achieve payback [A/R notes showed KCB Tanzania lost 141 million, KCB Uganda lost 438 million, KCB Rwanda lost 273m, while KCB Sudan made a profit of 84 million ]
Open more branches in under-served areas CEO said they have slowed down on this in 2010, they have attained branch network of 210 (168 in Kenya) and 650 ATM's (including partners) . however where they see a need , they will expand their footprint.
Poor customer service: some shareholders companied about poor service at KCB branches, one said their staff had not kept pace with technology while another noted that staff still think they are working for a government agency. Chairman said they have noted the comments
Ernst & Young have been auditors for a long time is that prudent , or are you stuck with them? yes E&Y have been their auditors since 1989, there is no requirement for company to rotate auditors, though management has noted the point. CEO also mentioned that CBK requires that the lead partners is rotated and that has been the case at E&Y partner who handles KCB
Shareholders companied about no SWAG this year to which CEO said they had reviewed costs of AGM and decided to focus on dividend; they still gave lunch to shareholders who showed up; they handed out (ahead of meeting) – a brown bag packed lunch (from Tintin Restaurant) with chicken drumstick, sausage, potato crisps, boiled egg, banana, soda
Other bank happenings
– Separately another bank Standard Chartered today announced a rights issue to raise capital from shareholders(estimate 3 – 6 billion targeted)
– I&M Bank will give 10 scholarships to Strathmore business students enrolled in 4 year BBS in actuarial science, finance or financial economics. Application deadline is May 31
– Stanbic Bank has an Africa Graduate development programme – apply here
– Equity Bank Pre-university sponsorship program wil benefit 200 of Kenya's top high school graduates – details here