The 2010 annual general meeting of Housing Finance (HF) took place on April 28 2010 at the Bomas of Kenya. It marked the end of an interesting month for the bank which was featured in media stories of a boardroom coup as well merger talks with Equity Bank. The AGM was chaired by Steven Mainda (who has been Chairman for a few weeks) and featured Frank Ireri the MD of the company.
Hot-button: Issues revolved around Equity Bank and the dozen shareholder questions were mostly on the subject.
– Merger or not?: Perennial shareholder A. Chami set the ball rolling as the first (as usual) questioner praising Equity and calling for a merger. He noted that it would save marketing costs and enable HF to sell their products deep in rural Kenya (where Equity was) not just urban centres. He heaped blame on the previous anchor shareholder CDC (UK) for their years at the helm which were marked by no dividends.
Chairman replied that HF had an opportunity of a lifetime after 44 years to sell products across Kenya and even in Sudan (pointed out that director Prof Shem is chair of Equity-Sudan) and wanted to get value, for shareholders who had invested in the company. Later he seemed to step back from these remarks (on the HF board leaning towards a merger) and after more pressing questions they became now adamant that it was a collaboration with Equity, Britak and other shareholders like NSSF (3rd largest) that would continue, and wondered where the media got the merger talk!
– Directors said they had invited Equity and Britak to invest in HF, and have since collaborated with Equity in terms of funding (notes show a 700 million loan from equity), and shared services (Equity handles all clearing for HF) as well as with Britak with products e.g. Home Freedom – in which one can use up to 60% of a pension to get a 115% mortgage (that is inclusive of the ~20% home mortgage closing cost)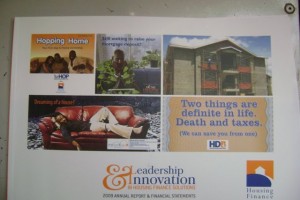 – How will Equity work with HF when they are competitors? Chair said Equity is a commercial bank, while HF is a mortgage bank and it was going to work with shareholders like Equity, Britak and partners like Shelter Afrique.
– Equity strong arm? one shareholder warned that Equity had muscled its directors onto the HF board making a merger inevitable while another added that shareholders at National Bank of Kenya were already getting jittery about Equity's interest. CEO replied that it was an unfair charge leveled at Equity – noting that they only had the 2 directors entitled to them, as did CDC, the previous anchor shareholder. He added that when CDC showed they were not actively interested in investing in HF, the Board went out seeking new anchor shareholders and talked to 16 banks, before they picked on Equity/Britak.
Past Board Promises: One shareholder complained that the board is making another big promise today (w/Equity) while other big promises in the past have turned out to be duds – they were promised big dividends which never materialized, then took part in a rights issue that cost Kshs. 20/share and subsequently shares dropped to about 14/=. CEO replied that they are serious this time, and they paying about ½ the profit as dividend; on the rights issue, he said it was held in 2008, after which came some NSE challenges (he mentioned post-election, but should have mentioned stockbrokers collapsing) and global crisis – during which all NSE shares had dropped, some by as much as 60%. He said the share is now back above Kshs. 20 today
Risk Controls: Are risk & credit controls strong enough to prevent a mortgage meltdown like US? CEO mentioned they are careful about lending only to those able (and willing) to repay loans, noting they had brought down NPA's from about 80% or 8 billion in 2004 to half a billion in 2009. chairman added that a strong Central Bank and Governor would not allow Kenyan banks to go down that road of lending to people unable to pay (on the hope that rising home values would plug the gap). Separately the Chairman warned off a shareholder who advised the bank to seek off-shore assistance, with the dreaded word 'Madoff'!
Dividend: One shareholder compared this to being as useful as a glass of water while the bank spent big on expensive corporate social responsibility, while another asked why it could not be higher as the bank had reserves of Kshs. 2.8 billion. CEO said they have been paying increasing dividends over the last 3 years.
Director elections: Earlier a shareholder had asked chairman Steven Mainga how he had ended up there. Director Peter Munga who doubles up as the chairman of the HF Board nominations committee (but is better known as the Equity Bank chairman) drolled through the new chairman's exemplary CV, and revealed that he was picked from a database of distinguished Kenyans (huh?). During elections, most shareholders walked out to get lunch and the media rolled up their equipment – seems they had they come for news of Equity that the Board was not going to disclose more.
The Chairman and Prof Shem Migot-Adholla (Equity director) were later confirmed as directors, but not so for the previous chairman Kungu Gatabaki, and director Naftali Mogere, who while listed on the agenda for elections, had tendered their resignations earlier in the month. The former two had been appointed in April 2009 when two others resigned – Helios/Equity's Babatunde Soyoye and the Permanent Secretary (Government of Kenya)
Shareholders also amended the HF company articles to allow for use of newspapers, e-mail, and the company website for the shareholder news & notification as well as publishing of annual accounts. They also approved for HF to consider electronic or mobile payment of dividends.
Goodies: While one shareholder said there were no gifts, the company was rather generous to whatever number of their 31,097 shareholders who showed up. They got a lunch-box from Panafric Hotel (juice, yogurt, cold roast chicken, sausage, apple, sandwiches (cheese & cold beef), boiled egg. HF also hired buses to ferry shareholders from downtown Nairobi to the AGM venue – about 5km away