Tracking changes in the three month ago in December 2009, as well as to six months as well as one year ago in March 2009
In 2010 government has shifted adjusted inflation basket to have a better measure of inflation that is less weighted on food. Let's see how they compare
Gotten Cheaper
Staple Food: Maize flour which is used to make Ugali that is eaten by a majority of Kenyans daily. A 2 kg. Unga pack at Uchumi today costs Kshs 84 compared to Kshs. 83 in December 2009. It's relatively unchanged, but overall cheaper than the Kshs 96 seen a year ago in March 2009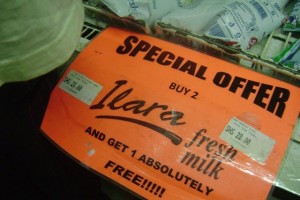 Free milk


With the onset of rains there is a surplus of milk in the country which has resulted in some sad scenes of dairy farmers and processors having to pour milk down the drains. For urban shoppers there is a boom of milk in the form of larger packets and 1 free packet for every 2 purchase at most supermarkets, and overall shoppers are paying ~45% less for milk now.
About the same
Communications: Safaricom's Supa Ongea tariff is now six months old (September 2009, and is still being hyped by Safaricom. M-Pesa and SMS charges are unchanged. Price changes are being seen in data (Safaricom tried a one month February to march 2010 of unlimited internets for a price of 1,000 ($13) per week), Orange now has Bunda data bundles, Zain Africa is about to change hands again (new investor is Bharti of India), while Yu is the cheapest, but not making much of dent yet in the market where Safaricom remains the default operator.
Meanwhile equipment prices continue to drop, for smart phone and computers. Banks have gone into computer financing, the latest being KCB Laptops for all last week. And at Safaricom shops, the popular Nokia E63 now cost Kshs 16,000 ($208) compared to 20,300 last September and 23,500 in June last year.
Other food item: Sugar (2 kg. Mumias pack) is at 200, no changed for the last six months
More Expensive
Fuel: A Litre of petrol fuel (at local petrol station) is now Kshs 84.9 (~$5.0 per gallon) which is about 5% higher than it was six months ago. In face since the post-triton fall of early 2009 when shell knocked the price down to 75/= there has been a steady gradual rise of petrol prices.
Utilities/ Electricity: While my electricity: my bill last month is Kshs 1 700 (~$22) less than the 2,100 of December 2009, but about the same as March and September 2009. So despite the prolonged drought of 2009 and rains late on the year and first quarter of 2010, impact yet to hit my electricity bill. However the electricity bill has a component called fuel cost adjustment that is twice hat it was a year ago, it's billed at 783 cents/kwh, which is 88% higher than the 416c/kwh of a year ago. Not the cost of fuel passed on to energy producers or the government continues to exceed household consumption by 1 1/3 times. So the cost has gone up, but household usage, minimizing use, using better bulbs, better planning has kept the costs in check
With Water bills, this is erratic for most with the Nairobi water company hitting customer with some crazy bills sometimes 3 or 4 times higher than what they have been paying. It has happened to others. Their billings I erratic, mine actually shows a cost reduction from 851 in 2009 to 509 in 2010. However the method of measure and billings has changed and it may only be a matter of time before I get hit with a crazy bill
Foreign Exchange: 1 US$ equals Kshs. 76.6, compared to 75.9 of September and 75.6 in December; but much improved from the 80 of a year ago last March.
Entertainment: A bottle of Tusker beer (at local pub) is Kshs. 150 ($2.00) up from Kshs. 140 in December 2009 at most places I know. East African Breweries is upping their dormant war with SAB Miller and having settled over Tanzania, there are rumours that SAB will re-enter Kenya, perhaps prompting some price wars.