French financier Proparco had a mini cocktail while their CEO Luc Rigouzzo was in Nairobi last week. The CEO, who grew up in Africa (Ivory Coast) talked about the group investments and potential they see in Africa, being real, not just afro-optimism statement.
In the banking sector, Africa with its 1 billion combined population has a potential urban population of 300 million banking customers, hence Proparco' intervention in the banking sector as well as infrastructure sectors
Proparco with € 1.5 billion assets has 37% of loans and 26% of equity investments to Africa, and their loan portfolio at 2008 comprised 146 million Euros in east & central Africa, and 154m Euros in West Africa
Proparco invests in social, environmental investments for the public good and that transom poverty.
The consumer may not see or feel this kind as Proparco's intervention is at a higher level with loans of € 5 to 30 million per project (over durations of 5 to 20 years) and up to to 100m in infrastructure, and equity of € 2 to 20 million (over 4 to 10 years)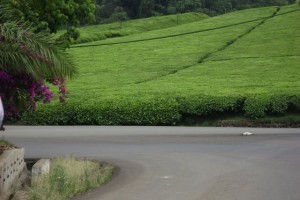 Tea estate


In Kenya they have invested in Mumias sugar, I&M bank, Zain, Bank of Africa, Serena Hotels, KTDA) , NIC Bank, Rabai Power, Kenafric. Ormat (Geothermal), while Uganda has bugajali hydro power, DFCU, and in Tanzania they have Tigo.